By
Phil
- 4 July 2023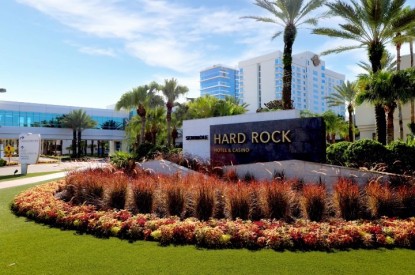 A Florida federal appeals court has ruled that the Department of Interior must stick to its agreement that gave the Seminole Tribe of Florida and its Hard Rock casinos the exclusive rights for sports betting in Florida, in a move that could also see two new casinos built in South Florida.
A three-judge panel on the US Court of Appeals for the District of Columbia Circuit narrowly ruled that federal gaming law allowed the state to enter into a 30-year agreement with the Seminole Tribe to offer exclusive sports betting in Florida, add roulette and craps to its casinos, in exchange for at least $2.5bn over the first five years of the deal.
The tribe could now relaunch its Hard Rock Sportsbook betting app.
The court ruled: "IGRA does not prohibit a gaming compact, which is, at bottom, is an agreement between a tribe and a state, from discussing other topics, including those governing activities "outside Indian lands. Whatever the tribe and Florida, who are not parties to this litigation, may believe, let us be clear: An IGRA compact cannot provide independent legal authority for gaming activity that occurs outside of Indian lands, where that activity would otherwise violate state law. The compact that they crafted would give no independent authority for the tribe to continue to receive bets from outside Indian lands."
"In reaching this narrow conclusion, we do not give our imprimatur to all of the activity discussed in the compact,'' the court added. "And particularly, for avoidance of doubt, we express no opinion as to whether the Florida statute ratifying the compact is constitutional."
A spokesperson for Florida Governor Ron DeSantis, Jason Mahon, said: "We will continue working with the Seminole Tribe of Florida to ensure the success of this historic compact, the largest gaming compact in US history, which will lead to over $20bn in revenues for the people of Florida."
"It is a positive outcome for the Seminole Tribe and the people of Florida, and for all of Indian Country. The tribe is fully reviewing the decision to determine its next steps," said the tribe's spokesman Gary Bitner
"Today's decision will not be the final word on this issue,'' said John Sowinski, spokesperson for No Casinos. "At the end of the day, the will of 72 percent of the people in Florida is going to be respected, and that is that voters, not politicians, have the final say on whether we expand gambling in Florida."