By
Lewis
- 5 August 2020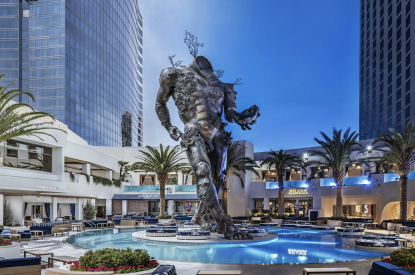 During a second-quarter earnings call with investors yesterday, Frank Fertitta, Chairman and CEO of Red Rock Resorts told analysts that he did not know if or when the company was to reopen any of its closed properties, including its Las Vegas Palms resort.
The Palms, Texas Station, Fiesta Henderson and Fiesta Rancho have yet to reopen as Red Rock seeks to achieve approximately US$150m in cost reductions. Red Rock opened 16 of its 20 properties on June 4, having shuttered all locations on March 17.
Red Rock reported net revenues of $108.5m, down $482.9m in the prior quarter, adjusted EBITDA of negative $17.3m, down from $115.2m in the prior quarter, and an EBITDA margin decrease to negative 15.9 per cent for the quarter.
The results equate to a 77.5 percent drop in revenue for the second quarter, but also means that its reopened properties in Las Vegas have been performing well in the second quarter, with cash flow and margins higher than the year prior thanks to a streamlined cost structure.
Mr. Fertitta said the company is pleased with the results from its reopened properties and that Red Rock has the ability to move some of the play from its closed properties to its existing properties as the company tries "to get clarity and navigate the situation to make well-informed decisions. Rest assured, whatever decisions we make will be in the best interest of shareholder value."
During the closure period, Red Rock has reviewed and assessed every property in every department. Based upon that review, it has sought to streamline its cost structure, including significantly reducing salaries for senior executives across the company and refining and optimising business processes, which has led to staff reductions both at the property and corporate levels. The actions have also reduced costs related to outside services through termination or renegotiation of vendor and other agreements, suspending quarterly dividends, eliminating non-essential capital spending for the remainder of the year and opening properties in a phased approach to maximise flexibility in meeting demand.
"Through these actions we will become a much leaner and more efficient company and remain confident in our ability to permanently achieve the approximate $150m in cost reductions on the annualised run rate basis we referenced on our previous earnings call," stated Mr. Fertitta.
The company kept its full-time employees on its payroll through the shutdown — costing the company $72m. However, Red Rock has still cut a significant number of jobs, with Mr. Fertitta acknowledging that the workforce has been reduced by half since the beginning of the crisis.
Red Rock revealed during the earnings call that the second quarter of 2020 was the most challenging it has faced in the 40-plus-year history of the company, a period that also saw the loss of its President, Rich Haskins, in a boating accident on July 4.