By
Phil
- 15 August 2023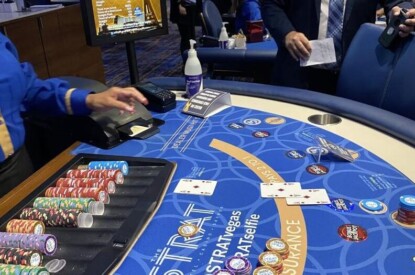 Galaxy Gaming, a developer and distributor of casino table games and enhanced systems for land-based casinos and iGaming content, increased its second quarter revenue by 33 per cent to $7.525m, making it a record quarter.
"Q2 2023 was a record quarter for us in revenue, adjusted EBITDA and cash on hand," said Todd Cravens, President and CEO. "But Q2 was meaningful for more than just the numbers. We announced a ten-year agreement with Evolution, cementing the relationship with our largest customer well into future. We also announced that, in September, we will become the exclusive distributor for EZ Baccarat in the US, Canada, the UK and online, an opportunity that we think can generate several million dollars in new revenue for us. And after the quarter, we saw the first installations of our GOS platform in the US and UK and we are very pleased with the results. It has been a very busy six months for us and I want to publicly thank all my fellow Galaxians for their loyalty and dedication."
"Consistent with Q1, perpetual license sales to a single GG Core customer were $1.6m in Q2," said Harry Hagerty, CFO. "Excluding those sales, revenue in GG Core was $3.8m in Q2 23 as compared to $3.7m in Q2 22. In GG Digital, revenue (net) was $2.2m in Q2 23 as compared to $1.9m in Q2 22.
"Our liquidity is good," Hagerty continued. "At quarter-end, cash was $18.7m and our long-term debt was $58.6m. Adjusted EBITDA of $3.2m was well in excess of the $1.9m in cash interest in the quarter. Our loan from Fortress Credit Corp. requires our net leverage not to exceed 6.0x at any of the quarter-ends in 2023, and at the end of Q2 we were at 3.4x, comfortably in compliance. It remains our intention to refinance our debt, but conditions in the bank market are less robust than they were at the beginning of the year.   Our centerline plan is to continue to reduce our net leverage so that we can be ready to act when the bank market improves.
"With respect to fiscal 2023, we are increasing our guidance for revenue (net of iGaming royalties) from a range of $27.5 to $28.5m to a range of $29 to $30m, and we are increasing the guidance for Adjusted EBITDA to the high end of the previously announced range of $13 to 13.25m. We expect significantly reduced sales of perpetual licenses in the second half of 2023, offset by increased revenue from our GOS installations as well as from EZ Baccarat placements. This forecast assumes no impact to our business from the war in Ukraine, and no economic recession. Finally, the forecast is based on currency exchange rates that we experienced in the second quarter."