By
Phil
- 3 May 2016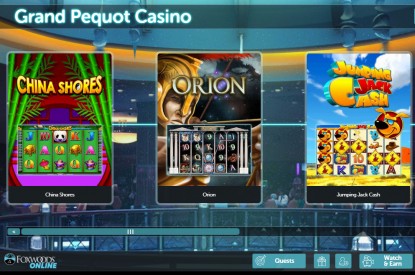 Greentube and Foxwoods Resort Casino have launched the Foxwoods social casino platform at https://online.foxwoods.com.
The platform is powered by Greentube Pro, Greentube's private-label social casino marketing platform.
Foxwoods Resort Casino is the the largest resort casino in North America. Greentube – a subsidiary of the Novomatic Group – is a leading developer and provider of iGaming solutions for the Internet, mobile devices and iTV. The relaunched social casino is the result of intense redesign, reengineering and improvements by BlueBat Games, a subsidiary of Greentube.
"Both teams worked against an ambitious deadline in order to relaunch the desktop site and mobile apps (IOS & Android)," said Thomas Graf, CEO of Greentube. "The Foxwoods brand was the perfect foundation upon which to build a formidable social casino with the latest offerings. We are proud of the product and look forward to continued collaboration with Foxwoods and the Mashantucket Pequot Tribal Nation."
Foxwoods looked to Greentube to design and launch a platform that engages with players across all platforms and devices.
Greentube created a customised look and feel that reflects the physical appearance of the Foxwoods Resort Casino. Online players will recognize the Foxwoods Resort Casino lobby as well as other popular areas throughout the property.
The Greentube Pro offering engine is designed to perpetuate play and ultimately drive players back to the brick-and-mortar property with valuable offers ranging from complimentary meals, hotel rooms to event tickets.
The relaunched Foxwoods mobile casino operates on one seamless platform that offers the same virtual experience and rewards. Players can log in and double down wherever they have a broadband connection.
"This effort between Foxwoods and Greentube is the latest chapter in our strategic relationship," said Rodney Butler, Chairman of the Mashantucket Pequot Tribal Nation. "By leveraging Greentube capabilities, we have furthered Foxwoods as the industry leader across all gaming verticals."
In addition, the redesigned platform allows for in-game marketing capabilities via multiple channels.
"One of the key elements of the redesign was to build efficient and effective marketing channels that enabled Greentube and Foxwoods to promote the social casino," said Gabriel Cianchetto, president of market development for Greentube North America. "We've added video promotions and other marketing capabilities that produce a one-of-a-kind player engagement through 'magic moment' redemptions as well as a reward center that replicates real-life experiences on the Foxwoods casino floor."
"We designed Greentube Pro to address the shortcomings of many competing social casino platforms," said Kenny Huang, CEO of BlueBat Games. "Our research revealed that social gamers demand more and Foxwoods Resort Casino is a perfect opportunity to showcase all that Greentube Pro has to offer."