By
Phil
- 20 December 2018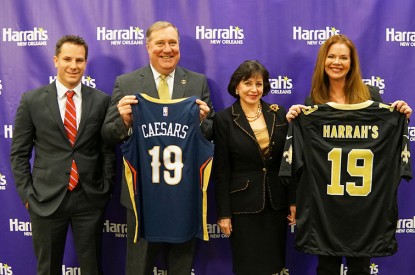 New Orleans Saints and Pelicans President Dennis Lauscha joined with Caesars Entertainment Chief Experience Officer, Michael Marino and Harrah's New Orleans Assistant General Manager, Kathryn Jenkins to announce that Harrah's New Orleans Casino will be designated as "An Official Casino Partner of the New Orleans Saints" and "A Proud Casino Partner of the New Orleans Pelicans."
The multi-year partnership, beginning in 2019, brings together three notable New Orleans entertainment brands. The partnership includes unique opportunities for Harrah's to bring the Saints and Pelicans experience to life. By doubling down on the Saints, Harrah's will be able to develop customised experiences, in game features, a Saints branded area on property and be designated as an official post-game destination.
"We are proud to align ourselves with a brand such as Harrah's New Orleans Casino that is an industry leader not only nationally but on a local level as well," said New Orleans Saints and Pelicans President Dennis Lauscha. "Located in the Heart of Downtown New Orleans, Harrah's vision for development and commitment to the city mirror that of the Saints and Pelicans and we could not be happier about this partnership."
"We have been entertaining guests and our community in New Orleans for almost 20 years," said Kathryn Jenkins. "With this partnership Harrah's continues our commitment to our local teams and becomes an essential part of the game day experience. From activations to memorable events, fans of the Black and Gold will be able to call Harrah's New Orleans their game day headquarters."
Professional sports and world class entertainment has always been a core value of Caesars Entertainment, the parent company of Harrah's New Orleans.
"This announcement, along with our previous announced partnerships with the Las Vegas Raiders, the Baltimore Ravens, the Philadelphia 76ers of the NBA and the New Jersey Devils of the NHL, demonstrates Caesars' strong commitment to the professional sports fan experience," said Michael Marino. "New Orleans has a rich heritage in sports, and we are excited to further enhance the game day experience. We look forward to many exciting seasons."