By
Phil
- 25 March 2014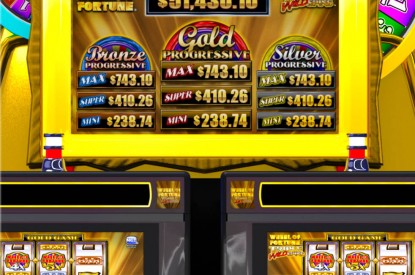 International Game Technology has signed a new multi-year agreement with Sony Pictures Consumer Products to deliver the most popular slot machine theme of all time, Wheel of Fortune, to players around the world.
As part of
the agreement, IGT will also develop Wheel of Fortune mobile and online games for its DoubleDown Casino and for-wager online play worldwide through 2024.
Since IGT launched the first Wheel of Fortune slot machine, more than 200 Wheel of Fortune slot machine themes have been introduced around the world including the latest releases, Triple Cash, Lucky 7s and Wild Gems.
As part of this agreement, IGT has also licensed the Jeopardy! brand, including game development for slot machines, online games for its DoubleDown Casino and for-wager online play. The game's appearance on IGT's DoubleDown Casino will mark the first time that Jeopardy! will be available on an online social casino in the U.S.
Wheel of Fortune and Jeopardy are
part of IGT's MegaJackpots Wide Area Progressive (WAP) product line, which has produced thousands of winners with jackpots ranging from $1m to the world-record slot jackpot of more than $39m.
Wheel of Fortune has been the number one syndicated game show since its inception and has earned six Emmy Awards, including the 2011 Daytime Emmy for Outstanding Game/Audience Participation Show. With more than 30 million viewers per week, syndication's most successful series continues to attract a larger audience than many primetime television shows.
Jeopardy is celebrating 30 years of 'answers
and questions.' The top-rated quiz show in syndication, Jeopardy has become a pop culture phenomenon and holds the Guinness World Record for the most
Emmy awards won by a TV game show (30 Emmys). In 2014, Jeopardy won the inaugural Writers Guild of America award for Outstanding Writing for Quiz and Audience Participation; it is also the recipient of a 2011 Peabody Award.