By
Phil
- 1 November 2022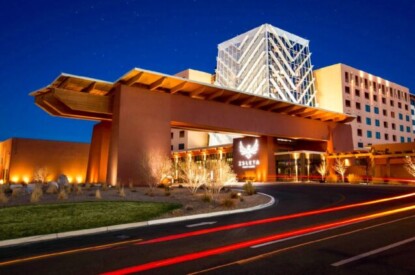 Isleta Resort & Casino, which pitches itself as a trend setting casino, has launched the world's first Live Dual Roulette Table. This completely new and innovative Dual Roulette Table, brought to you by industry leader Interblock, features two live, interconnected color-coded roulette wheels, making the game more enhanced, and more profitable than the classic version.
"This is an amazingly fun way to play roulette," said Calvin Jiron, Director of Table Games at Isleta. "With over 120 spins per hour our players love the fast paced play as much as the excitement of playing on two wheels at the same time. As the first of its kind, it's going to attract table game players from all over the state."
The new roulette is impossible to ignore. It features 10 gaming terminals and an eye catching, 98-inch High-Definition Stadium Tower information board, easily seen from anywhere on Isleta's large casino floor.
"This new double roulette is so exciting that we've had lots of our regular slot players coming over to try it," said Mr. Jiron. "They like that is easy to play and love that the double bets boost up their winning!"