By
Phil
- 15 March 2018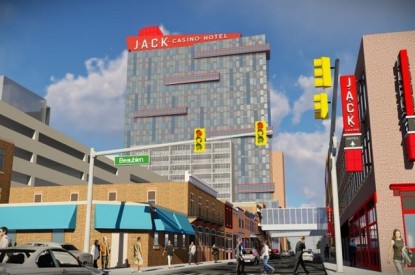 Jack Entertainment, the Detroit-based casino group, is making the decision to target the end of summer for the rebranding of Greektown Casino Hotel to focus on a seamless technological integration across all JACK properties. The additional time will allow for regulatory approvals in multiple jurisdictions and provide enhanced value in the loyalty program.
"Our decision to focus on an end of summer transition date provides our talented team the ability to integrate and facilitate industry leading technology and ensure a higher quality and rewarding experience for our guests," said Matt Cullen, chief executive officer, JACK Entertainment. "We are excited to share that Monroe Market and Noodle Art will in fact open in May as these unique new dining experiences deserve a grand opening of their own."
Greektown Casino Hotel is completing a multi-million-dollar renovation to craft Monroe Market and Noodle Art. A total of seven new eateries will form a vibrant dining atmosphere, with options ranging from authentic Japanese ramen to American classics. Monroe Market and Noodle Art will be located on the third level of the casino and will be unveiled in early May, joining Detroit's flourishing food scene.
Jack is installing a 1,500-unit state-of-the-art signage package at the top of the building, which includes a beacon that has the ability to change colours and display animations.
Jack Entertainment is owned by Rock Ventures and generates more than $1.2bn in revenue from gaming properties in Cleveland, Cincinnati and Baltimore, as well as horse-racing facilities in Ohio and Kentucky.