By
Phil
- 1 August 2014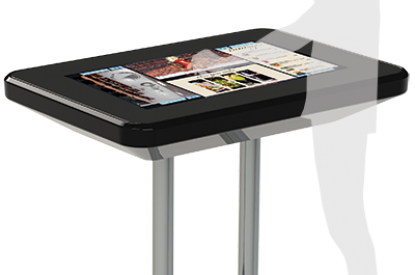 SHIFT Interactive, a division of Suzo-Happ Group (SHG), and MGM Resorts International have announced that a multi-year agreement has been signed to support the launch of the highly anticipated, InteractivePro Table (IPT).
The initial 20 InteractivePro Tables will be installed during this initial market-testing phase beginning July 28, at two of Las Vegas' landmark casinos: MGM Grand and The Mirage.
The new InteractivePro Table offers a unique 10-point multi-touch experience suitable for a wide range of applications, excellent for television, video and interactive entertainment in bars, casino floors, hotel suites, restaurants and lounges. Each IPT operates with the proprietary InteractiveProVision Platform and Application that allows up to four user screens at the same time. The IPT comes in three configuration models which are bar, lounge and dining height. All are manufactured from industrial grade components, ensuring high reliability and suitability to withstand harsh public environments.
Tom Mikulich, Senior Vice President of Business Development for MGM Resorts, said: "We have invested a great amount of effort in reaching the younger demographic and we believe that including the InteractivePro Table in our strategic initiatives will revolutionize how generation X and Y experience MGM properties. If all goes to plan, we are looking at additional units across multiple MGM properties in the next year. This will enable us to have a stronger integration with customers using our current interactive platforms."
The launch of InteractivePro Table fortifies a long-standing relationship between MGM Resorts International and the Suzo-Happ Group. Jim Brendel, CEO and President of Suzo-Happ, shared his appreciation for MGM's continued trust in the company. "MGM is a recognizsed authority in gaming and hospitality and we have been fortunate to have unceasing opportunities to work alongside them for more than a decade," he said. "Introducing our InteractivePro Tables at their properties supports both our plans for the future."
Darren White, Executive Vice President and General Manager of SHIFT Interactive, added: "We are elated with this continued partnership with MGM through our new division. We endeavored to develop new capabilities and solutions for our customers and we are glad to be at the forefront of this innovation."
The InteractivePro Table was originally developed for the Australian sports betting and wagering market, allowing its players to watch sports and access their betting account while at the IPT. Since its inception the table has evolved to a more sophisticated interactive entertainment product.