By
Phil
- 22 August 2016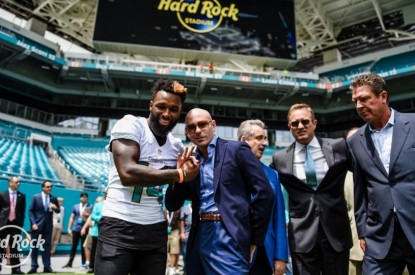 Hard Rock International is paying US$250m for an 18-year agreement to name The Miami Dolphins' newly renovated facility Hard Rock Stadium.
This venue will serve as the home of the Miami Dolphins, University of Miami football team, Orange Bowl, Super Bowl LIV and the 100th anniversary of the NFL, international soccer and a host of world-class events. Additionally, the iconic lifestyle brand becomes the official Miami Dolphins hotel and resort, casual restaurant partner and hospitality sponsor.
"Hard Rock Stadium will be a global entertainment destination and we are excited to enter this long-term partnership with Hard Rock International, an iconic worldwide brand that continues to grow," Miami Dolphins President & CEO Tom Garfinkel said. "They are synonymous with music and entertainment and have a rich history of philanthropy and community engagement."
"Hard Rock International, along with our owners, the Seminole Tribe of Florida, is extremely proud to see our name go up on this stadium. This deal is not only a naming rights program, but it is designed to be a true partnership between two companies dedicated to providing world class entertainment on a global level," Hard Rock International Chairman Jim Allen said.
In addition to hosting major events, Super Bowl LIV, College Football Playoff Semifinals and major concerts, it was announced that Hard Rock Stadium has secured rights to host the Brazil Men's National Soccer Team for a series of matches starting in 2017. In addition, Real Madrid will be returning to Miami in 2017 to launch play in the International Champions Cup.
As part of the partnership, the newly renovated Hard Rock Stadium will feature signage atop the shade canopy, at the facility entrance, on the VIP helipad as well as throughout the venue and organisation. The main thoroughfare of fan activities pregame along the South Gate will be renamed the Grand Plaza presented by Hard Rock.