By
Phil
- 4 May 2022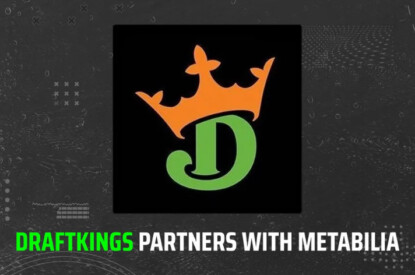 DraftKings has teamed up with Metabilia, a memorabilia and NFT company operating at the forefront of physical and digital collectibles, which will become the latest NFT supplier on DraftKings Marketplace. The collaboration introduces "Membership NFTs" for fans to chronicle the careers of top young players and will feature star major leaguers beginning with Vladimir Guerrero Jr., Ronald Acuña Jr., Shane Bieber, Wander Franco, Joe Musgrove, and Fernando Tatís Jr. This debut collection is expected to drop on 4 May 2022 starting at 3pm ET exclusively on DraftKings Marketplace.
"At Metabilia, we are focused on delivering NFT collectible programs that deliver high-quality benefits for the long term, and our Membership NFT programs allow fans to show their support for a young athlete and be a part of his or her journey," Joseph A. De Perio, CEO of Metabilia. "As part of the strategic relationship, DraftKings Marketplace will be the exclusive distributor of authentic Metabilia NFTs that also incorporate historical pieces of game-used collectibles, career achievements and more."
Metabilia has relationships with elite athletes and teams to help engage their fanbases through NFT projects and drops. This collaboration with Metabilia is consistent with DraftKings' long term goal to bring top sports NFT creators to DraftKings Marketplace, which currently features drops from Autograph, co-founded by Tom Brady. DraftKings Marketplace has incorporated many iconic sports stars to date, including Derek Jeter's first-ever NFTs ahead of his Hall of Fame induction. These opening drops with Metabilia will mark the next generation of baseball talent for fans to engage with through digital collectibles on DraftKings Marketplace, including exciting young stars like Fernando Tatís Jr. and Vladimir Guerrero Jr.
"The affinity for sports collectibles continues to rise in the digital space, and DraftKings Marketplace is committed to building a fan-first destination that captures this growth and unlocks new experiences," said Beth Beiriger, SVP of Product Operations for DraftKings Marketplace. "Metabilia brings a wealth of capabilities in sports memorabilia and this collaboration represents our latest efforts to immerse fans and form passionate communities around emerging star players."
"Being a professional athlete today comes with countless opportunities to engage fanbases, and I am thrilled to be working with Metabilia and DraftKings Marketplace to embrace this exciting world of NFTs," said Vladimir Guerrero Jr.
"Similar to these early seasons of my baseball career, we're in the beginning stages of NFT technology, and fans can expect much more from us ahead as we power new kinds of fandom," said Ronald Acuña Jr.