By
Phil
- 26 October 2021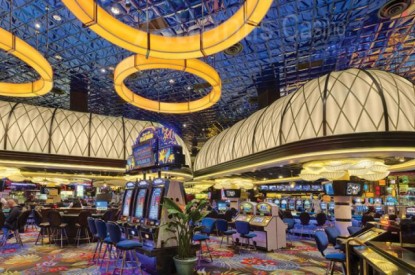 Monarch Casino Resort , owner of casinos in Colorado, Denver and Reno, reported another record quarter in the third quarter, generating net revenue of $111.6m, an increase of 86.5 per cent from $59.9m in the prior-year quarter.
Casino, food and beverage (F&B), and hotel revenues increased 71.4 per cent, 102.3 per cent and 162.2 per cent year-over-year, respectively. The increase in revenues was driven primarily by the ongoing ramp up in business at the Company's hotel and expanded casino in Black Hawk. In the third quarter of 2020, Atlantis and Black Hawk revenues were negatively impacted by pandemic-related capacity and other regulatory limitations which remained in effect following the properties' reopening.
John Farahi, Co-Chairman and Chief Executive Officer of Monarch, commented: "Monarch again delivered record financial results as our third quarter benefited from the strong ongoing pandemic recovery, economic and population growth in Denver and Reno, and the notable impact of the removal of betting limits in Colorado. Our focus on operational excellence and market-leading amenities has enabled us to leverage these tailwinds and drive consistent growth. Labor shortages and wage pressure, as well as supply chain constraints and price inflation, remain headwinds. Atlantis operation in Reno was impacted by unhealthy air quality from the California fires and Nevada's decision to reinstate indoor mask mandates.
"Net revenue and Adjusted EBITDA in the third quarter of 2021 were $111.6m and $40.3m, respectively, reaching all-time highs for the second consecutive quarter, as each of our properties generated record net revenue and Adjusted EBITDA. For the second quarter in a row, we also achieved a record Adjusted EBITDA margin of 36.1 per cent.
"Our Black Hawk operations are ramping up, and we are working diligently to complete the legacy facility transformation by year-end. This addition will increase casino space by approximately 25 per cent and restaurant seating by approximately 35 per cent. In just a short time, the property has established itself as the leading casino resort in the greater Denver market, and we continue to grow market share. The May 2021 removal of the Colorado table game bet limit and the addition of Baccarat to our table game mix have resulted in an increase in new customer visitation, particularly high value players from across the Front Range. We have been able to manage the labor shortages and operate the hotel, and food and beverage outlets at full capacity on our busiest nights.
"At Atlantis, we continue to see strong demand across all segments of our business and higher customer spend. That said, Atlantis' results were negatively impacted by the California fires which lowered air quality in the Reno area to unhealthy levels for at least 26 days. We also saw additional negative impact to visitation beginning on July 30, when mask mandates were again instituted across Nevada. Our ongoing investments in the property continue. We intend to commence a complete renovation of the hotel rooms in the first tower beginning early next year, to ensure that we meet the high standards that our guests have come to expect from Atlantis.
"With the Monarch Black Hawk construction project nearing completion, we are evaluating acquisition opportunities where we can fully leverage our development expertise and operational excellence. The Company has the discipline and balance sheet to continue to deploy capital in a manner that consistently builds shareholder value."