By
Phil
- 28 May 2015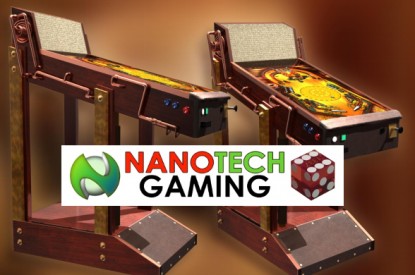 NanoTech Gaming, a casino gaming and out of home game developer and manufacturer leveraging proprietary technology to deliver state-of-the-art products and services, has completed the move to OTC Markets following the acquisition of High Velocity Enterprises, as part of an overall corporate reorganisation.
NTGL was spun out from the Gaming Labs division of NanoTech Entertainment along the division's IP portfolio and full gaming operations into the new company. FINRA has approved the name change and issued a new ticker symbol for NanoTech Gaming which trades under the symbol NTGL effective immediately.
NanoTech Gaming has retained Omnivance Advisors to handle shareholder and investor relations providing focused communications for the company's existing shareholders as well as the investment community. The company is in the process of registering the shares that were previously issued as part of the acquisition of the intellectual property and assets.
Alan Stone, Chairman and CEO of NanoTech Gaming, stated: "We are excited to complete this transition and look forward to working with our shareholders and investors under our new trading symbol NTGL."
Aaron Hightower, Senior VP of Gaming Technology, added: "We have incredibly exciting times ahead of us. I know that I speak for me and the entire NanoTech Gaming team when I say that we are truly developing the Future of Gaming. We are very excited about the changing landscape of gaming and being at the very leading edge of designing and implementing technologies that will advance the gaming space in the coming years."
NanoTech's portfolio includes innovations such as its Vegas 2047, an Advantage Play High Limit Pinball game that combines all of the new technology offerings from NanoTech Gaming Labs into a single, high-limit gaming machine. This game features a video pinball simulation using the most fluid and immersive visuals combined with a unique advantage betting system. Aaron Hightower, NanoTech's Vice President of Gaming stated, "We are very excited to be showing the gaming industry its first glimpse of the future of Advantage Play technology with our patent-pending NanoTech Advantage system." By allowing game strategy to impact the expected value per bet, while retaining the operator's ability to adjust machines to meet their desired hold percentage, and operating within all local betting regulations, interactive game creators will be able to develop a new line of casino games that appeal to the recurring players."
Mark Nicely, of Nicely Done Gaming, an industry veteran and mathematics specialist, said: "I've seen lots folk in the industry try to marry gambling and video game play — myself included. NanoTech looks to be the first team to have finally succeeded. What the NanoTech team has done is truly compelling. Bravo."
In conjunction with the NanoTech Advantage, NanoTech is highlighting its specific implementation called the The NanoTech Bet Cube is a System that incorporates the Players bets and allows them to configure their bet within the entire domain of possible gambling parameters. By giving Players control over their bet amount, chance to win, bet frequency, pay multiple, and payout histogram, and divulging as much information as possible (such as the average expected house edge) the NanoTech Bet Cube provides more transparency than any system in any gaming machine, and lets the Player determine exactly how they want to gamble.
NanoTech Game Flow revolutionises the clarity and motion of video gaming machine displays.