By
Phil
- 30 August 2022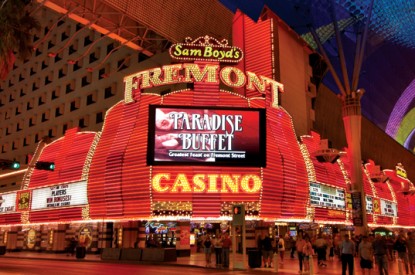 Following the final approval by the Nevada Gaming Commission, FanDuel Group and Boyd Gaming today announced plans to open a FanDuel Sportsbook at the Fremont Hotel & Casino in Las Vegas early next year – the first FanDuel-branded Sportsbook in the state of Nevada.
FanDuel Group's subsidiary, Betfair Interactive US LLC, received approval from the Nevada Gaming Commission for an operator of information service license and a manufacturer/distributor license. Betfair Interactive also received a recommendation of approval from the Nevada Gaming Control Board on August 10.
The FanDuel Sportsbook at Fremont Casino will be conveniently located off the Third Street entrance, near the Filament Bar. Stretching over 2,300 square feet, the sportsbook will serve as a one-stop-shop for fans to enjoy sporting events while placing wagers on the action. The sportsbook will be open year-round and feature four betting windows, two LED video walls (16'x9'), a 40-foot bar, 16 tables, two drink rails, seating for 76 customers, 14 odds/promo screens and seven IGT PlaySports self-service betting kiosks.
The FanDuel Sportsbook at Fremont Casino will be part of Boyd's ongoing $50 million expansion of the Fremont, which will significantly enhance the property's gaming and dining amenities upon its completion early next year.
FanDuel has entered into a co-branding arrangement with Boyd Gaming for the sportsbook and will provide lines/odds information for Boyd Gaming to use in setting the lines/odds at the sportsbook. In accordance with Nevada law and regulations, Boyd Gaming will hold the sportsbook license and will operate and manage the FanDuel Sportsbook at Fremont. FanDuel and Boyd Gaming will share gaming revenue as part of the arrangement.
With the opening of the Fremont sportsbook, the Boyd-FanDuel partnership will expand to eight states, joining FanDuel Sportsbooks at Boyd properties in Illinois, Indiana, Iowa, Kansas, Louisiana, Mississippi and Pennsylvania.
Nevada will be the 17th state to feature a FanDuel Sportsbook location joining Arizona, Connecticut, Illinois, Indiana, Iowa, Louisiana, Maryland, Michigan, Mississippi, New Jersey, Kansas, New York, Pennsylvania, Washington, Washington DC and West Virginia.