By
Phil
- 7 November 2013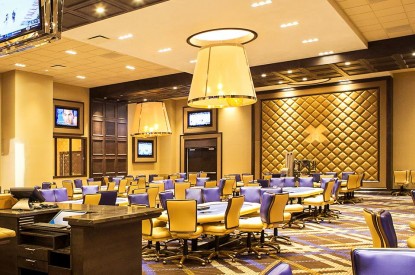 Genesis Gaming Solutions has installed a suite of table management solutions was completed for the grand opening of Graton Resort & Casino, in Rohnert Park, California.
The Bravo Pit System was installed on all 144 tables along with the Bravo Pit Card and Chip Detection System. The Bravo Poker System was selected to manage the 18-table poker room. Bravo quick-change tabletops, layouts and accessories were also provided to the Bay Area casino. The Station Casinos group manages Graton Resort & Casino.
"The opening of the new Graton Resort & Casino in the Northern California wine country is an exciting occasion we are pleased to be a part of," said Randy Knust, President of Genesis Gaming Solutions. "We have a longstanding relationship with the Station Casinos group and we appreciate the trust they have in our products. We look forward to the success of the new casino and its contribution to the Bay Area community."
The Bravo Pit System is a complete table game management and player tracking system designed for more efficient player ratings and pit management, utilizing electronic data collection. The Bravo Pit System allows for easy input and tracking of all ratings and management functions. Players are rated electronically and immediately given credit for play.
The patented Bravo Pit Card and Chip Detection (CCD) System was also installed, featuring light sensors embedded under the table felts to detect when cards or chips are placed in position and signals the system that a hand is being played at that spot. The system tracks table play and exact hand counts for more accurate player ratings and reward calculations, as well as correct measure of operational metrics, such as dealer speed and efficiency. Casinos can also better track proposition or bonus bets on a game, enabling more accurate data for cost-benefit analysis of bonus bets.
The Bravo Poker System, which was installed on all 18 tables in the new Graton Poker Room, is a complete poker room management system that allows for accurate monitoring, tracking and managing of the entire poker room. Bravo Poker enables poker room supervisors to monitor and manage most poker room functions, such as player tracking, lobby tracking, game setup and maintenance, waiting list functions, room statistics, player history, dealer speed, kiosk utilisation, promotion tracking and complete tournament management.
Through the Bravo Poker System, Graton will also be able to take advantage of the Bravo Poker Live mobile app, which keeps players up-to-date with the latest poker room information, promotions and much more. Bravo Poker Live leverages the power and data of the Bravo Poker System and gives players up-to-the-minute information on live play, waiting lists, tournament, and promotional activity at all participating poker rooms. Graton can instantly publicize its poker room tournament schedules and promotions directly to players through their Bravo Poker System.
Genesis Gaming also provided its innovative quick-change tabletops and its Bravo table game layouts. Available in a variety of gaming table styles, the quick-change tabletops allow casino personnel to quickly change out layouts without having to touch items on the gaming table. Bravo layouts are made of a specially formulated blend of suede polyester material that provides superior durability to the standard graphic cloth. Chip trays, table signage, dealing shoes, discard racks and other equipment do not have to be removed, saving time and getting the table back in play in minutes.