By
Phil
- 15 January 2019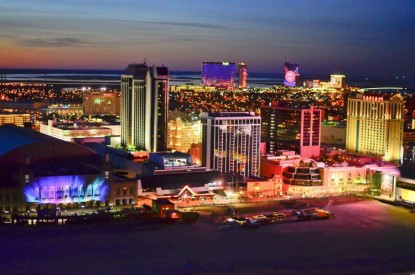 The reopening of two casinos coupled with six months of sports betting revenues saw Atlantic City's gaming revenue climb 7.5 per cent in 2018 to nearly $2.86bn but the outlook remains bleak for the city's other seven casinos.
Sports betting in the state accounted for $94m in revenue with the state given $10.4m in taxation.
December's casino revenue came in at $247.4m up from $207m when only seven casinos were in operation in 2017. However of the seven casinos open in 2017, six generated less revenue in 2018 than they did in 2017 with Golden Nugget showing an increase 13.7 per cent to $327.8m.
James Plousis, Chairman of the New Jersey Casino Control Commission, highlighted that 2018 was the third straight year of GGR increases for Atlantic City.
"While the city had a good year, market adjustments from competition occurred and will continue into 2019," he said in a news release. "The continuing strength of internet gaming plus a growing sports wagering market will provide the industry with tools to compete."
The state's market leading casino Borgata, saw its revenue drop by four per cent to $771.1m. Tropicana fell 2.5 per cent to nearly $381m. Resorts' GGR dropped by 3.3 per cent to $184.2m. Harrah's saw its revenue fall by 8.4 per cent to almost $333m. Bally's dropped by 9.1 per cent to $192m whilst Caesars saw the biggest drop in revenue by 13.5 per cent to $281.3m.
Of the two new casinos, Hard Rock was the clear winner, generating $166.7m for the six months it was open while Ocean Resort, which opened on the same day, brought in $101.1m.
Online gambling generated a record $298.7m in 2018, up 21 per cent from the $245.6m tallied in 2017. The revenue has been crucial, too, injecting $178.7m into government coffers since launch and $52.3m in 2018 alone.
"Online gambling's growth has been perpetual, and 2019 offers few reasons that it will slow down," said Steve Ruddock, lead online gambling analyst for PlayNJ.com. "Online gambling should generate more than $300m in 2019, and the taxes from that revenue will continue to be a boon to the state budget.
December saw New Jersey's online and retail sportsbooks collect $319.2m in bets in December, down 3.5 per cent from $330.7m in November. Revenue from sports betting hit $20.8m in December, down from $21.2m in November.
The state's sportsbooks have collected $1.25bn in bets since June. The sector is now brcing itself for the so-called Big Game
"New Jersey's sportsbooks are in position to generate a $100m handle from just that single game, which is the most significant single sports-betting event in the US," said Dustin Gouker, lead sports betting analyst for PlayNJ.com. "Nevada's handle was nearly $160m last year for the one game, and New Jersey's young market is already showing many of the same trends. And we know operators in New Jersey will be aggressive in attracting bettors."
New Jersey's online sportsbooks accounted for $241.05m, or 76 per cent, of bets in December.
"The popularity of online sports betting is a chief reason, making it easier for gamblers to place bets, even as the time demands of the holiday season are in full bloom," said Mr. Gouker.
DraftKings Sportsbook — which operates under the Resorts license — fuelled Resorts to $6.7m in online gross revenue in December, down from $7.2m in November. Resorts accounted for 46 percent of the state's online win in December, but was followed by FanDuel Sportsbook's $5.5m.
FanDuel Sportsbook at The Meadowlands still dominates the retail sportsbook market, gaining $3.6m in December gross revenue, up from $2.6m in November. FanDuel — which accounted for 58 per cent of New Jersey's retail win — was followed by Monmouth Park's $1.03m.
"Name recognition and an early entrance into the market has made DraftKings and FanDuel the most dominant players in the market, and that advantage will continue in the near-term," Gouker said. "But as 2019 plays out, other operators will adjust and could begin to eat into their market share."