By
Phil
- 8 December 2017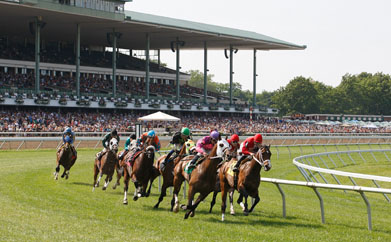 The New Jersey state assembly has voted by 60-12 to allow the state's horse racing tracks to accept bets via the internet.
Racetracks would need to partner with an Atlantic City casino or an online affiliate of one of the casinos.
The bill states: "This bill would permit a running or harness horse racetrack in this State to enter into an agreement with a casino located in Atlantic City, or such a casino's Internet gaming affiliate, that allows the racetrack's premises to be available as a venue at which the holder of an Internet gaming account may place wagers at casinos using the Internet."
Democratic Assemblyman Ralph Caputo said: "It would bring more traffic into the racetracks, and they need it desperately."
Dennis Drazin, Chairman and CEO of the Monmouth Park racetrack in Oceanport, added: "The casinos should realize that absolutely nothing will happen unless they agree to allow it through an agreement with a track. Nobody is forcing anything on them. This is really a win-win for the racing industry and the casino industry."
Having been prevented from operating real slot machines and table games, racetracks are hoping that computer terminals offering online gambling would be the next best thing. Race tracks would be able to set aside areas on their premises so customers could play casino games over the internet in between races.
New Jersey's legal online casinos have so far generated $200m in gross revenue for the year and have already smashed the annual revenue record with two months to spare.
Since New Jersey legalized and regulated online gambling in November 2013, the industry has collected $682.6m in revenue. That has injected $119.4m into state coffers, including $3.6m in October.