By
Phil
- 1 December 2015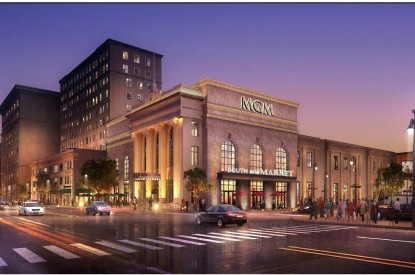 Moody's Investors Service has said that a fresh bout of casino openings in North America's North East will bring sales opportunities of around 20,000 slots for equipment manufacturers but will lead to more casinos closing in Atlantic City.
The new casinos are tipped to open by the end of 2018 in Maryland, Massachusetts, New York and Pennsylvania.
The Wall Street analyst said it expects eight new casinos to open over the next three years adding that the Trump Taj Mahal, Caesars and Bally's'are already on the brink' with all three currently being in Chapter 11 bankruptcy.
Moody's said: "As the number of casinos shrinks, some of the remaining casinos have seen revenues increase. But we expect increased competition will keep the heat on incumbents, and that number of casinos in Atlantic City will likely continue to shrink. We expect more casino closures to occur in Atlantic City as some struggle to grow their business and face additional competition."
The Taj Mahal could be forced to close if it has to honour health insurance and pension benefits it ended for workers in October 2014.
The eight new casinos should open by 2018 and represent $5bn in construction revenues.
Moody's said the new wave of openings would also damage revenue at gambling venues in Maryland, New York, Pennsylvania and Rhode Island.
It will be more difficult for the new casinos entering overcrowded markets to gain share as existing operators have been cutting costs and paying down debt in anticipation of the new supply, according to the report "Northeast Casinos Face Rising Tide of Competition."
The new supply will hit Atlantic City particularly hard. Increasing competition from casinos in Pennsylvania, Maryland, Delaware and New York has led to the closure of four casinos in 2014, and the new entrants in these states will likely cause the number of casinos in Atlantic City to continue to shrink.
Moody's also notes that market conditions will be difficult for existing casinos such as Sugarhouse Casino and Harrah's Philadelphia in Pennsylvania, Maryland Live casino in Maryland, Twin River casino in Rhode Island, and the Native American casinos in New York, which have already been struggling to adapt to flat revenue growth amid new entrants.
The first of the eight projects to open will be the MGM National Harbor casino with doors expected to be open by autumn next year. It will prove huge competition for Maryland Live! A second Philadelphia casino meanwhile will hurt earnings at Sugarhouse and Harrah's Philadelphia.
Moody's believes that one of the worst affected casinos will be Twin River casino in Rhode Island which could see its GGR drop by 20 per cent due to a new opening in the south east of Massachusetts. Over in New York, four new casinos could be open by the end of 2018, with seven of the nine racetrack casinos in New York state expected to suffer.
Gaming equipment manufacturers will be the clear winners from the increasing supply.
"The new casinos will be ordering some 20,000 new slot machines, boosting revenues for manufacturers that have been hit by slowing gaming revenue as existing casinos delay replacing older machines," said Peter Trombetta, a Moody's Analyst. "The biggest suppliers will likely benefit the most."
These include International Game Technology, Aristocrat Leisure and Scientific Games Corporation, among others.