By
Phil
- 27 February 2017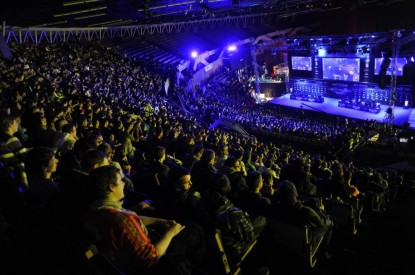 The coming year will see the Esports Economy grow to $696m, a year-on-year growth of 41.3 per cent, according to the latest report from Newzoo, a global leader in esports, games, and mobile intelligence.
North America is the largest esports market, with revenues of $257min 2017. This will more than double to reach $607m by 2020. Most of these revenues come from sponsorships, which will total $113m in 2017. This is partly due to North American teams that have welcomed a lot of new non-endemic sponsorships and the region hosting several of the world's largest leagues and tournaments that generate a high amount of sponsorship money.
Brands are expected to spend $517m, broken down into $155m on advertising, $266m on sponsorship, and a further $95m on media rights. Brand investment will double by 2020, pushing the total market to $1.5bn. Consumer spending this year on tickets and merchandise will amount to $64m. Another $116m is invested by game publishers into the esports industry through partnership deals with white-label organizers. As esports is becoming engrained in the DNA of successful competitive games, publishers are actively looking to grow their franchises as spectator sports with the aim to engage their current fans, and reach new ones. Often lacking the experience and resources to do so, publishers turn to these white-label organizers to help them set up leagues and events around their franchises. For most game publishers, esports is currently not a profitable business. However, their investment is justified by the positive impact on game revenues and the future potential of their esports activities as a stand-alone business.
Peter Warman, CEO at Newzoo said: "Esports is not only growing exponentially as a new independent business and industry, it is also accelerating the convergence of various established industries. For brands, media, and entertainment companies, esports provides a chance to capitalize on the favorite pastime of digital natives and Millennials: playing games and watching game content. With the arrival of live streams and events, gaming has entered the realm of broadcasters and media that can now apply their advertising business model to a market previously out of reach for them."
The 25 m Enthusiasts in North America generate twice as much revenue per year than in any other region, $10.36 per fan per year, highlighting the lead that American media companies and brands have taken. The involvement of American and European sports teams and their marketing agencies will continue this year, pushing brand investments up even further. The impact of traditional sports and media are already reflected in esports' fastest-growing revenue stream: media rights trade. The sales of esports content licenses are expected to generate $95m this year on a global scale, up 82 per cent from 2016
The global esports audience will reach 385m in 2017, made up of 191m Esports Enthusiasts and a further 194m Occasional Viewers. The number of esports fans is expected to grow by another 50 per cent toward 2020, totalling 286m. In traditional sports, total revenue per fan is a key indicator of how well a sport is "monetized". It encompasses all revenue streams, including media rights, sponsorships, and consumer spending. Based on our audience and revenue expectations for 2017, the average revenue per fan this year will amount to $3.64. As the esports industry matures and incorporates an increasing number of local events, leagues, and media rights deals, the average revenue per fan is anticipated to grow to $5.20 by 2020. This is still a factor three lower than a popular sport such as basketball and a factor twelve lower than the most commercial league in the world, the NFL.