By
Phil
- 9 May 2021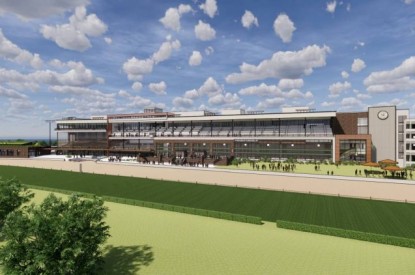 On Friday, May 7 Standardbred race horses returned to the track at Hawthorne Race Course for a summer of live harness racing. "Chicago's hometown track" will host racing every Friday, Saturday and Sunday night. Capacity is currently limited to 50 per cent, but now includes expanded outdoor seating in the new First Turn Terrace.
"There's a lot of pent-up demand for live sports entertainment and with harness racing you can get so close to the action," said Tim Carey, president and general manager of Hawthorne Race Course. "The view from the new First Turn Terrace is amazing because the horses are coming right at you and then go spinning away through the turn."
In addition to the trackside views, the outdoor space, including along the railing, provides for easy social distancing and pod seating at picnic tables. Night racing at Hawthorne also features outdoor barbecue and bars.
Founded in 1891, Hawthorne is celebrating its 130th year of live racing. Harness racing first debuted at Hawthorne in 1970 and the track is now the only one in the United States to host both thoroughbred and Standardbred horses. In harness racing, drivers–as opposed to jockeys–sit in a chariot-style cart called a sulky that is pulled by the horse, reaching speeds of up to 30 miles per hour in tightly packed groups of up to 10 horses. Hawthorne features the longest homestretch in North America for harness racing allowing drivers and horses to rally late in come-from-behind victories.