By
Phil
- 5 August 2015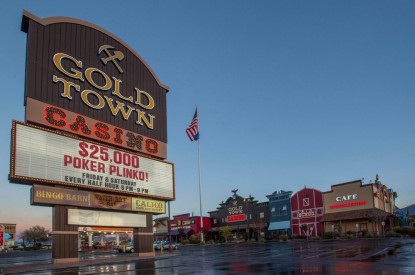 The merger between Sartini Gaming and a subsidiary of Lakes Entertainment, has closed, after receiving various approvals from the Lakes' shareholders at the company's annual meeting on July 29.
In connection with the merger, Lakes has been renamed Golden Entertainment. The newly combined company operates approximately 9,250 slot machines and video lottery terminals in Nevada and Maryland across four casino properties, 48 taverns and 670 route locations. Golden Entertainment's headquarters is now based in Las Vegas, Nevada.
"Today is a truly monumental and meaningful day for our company, our team members, our business partners and the markets we collectively serve," said Blake Sartini, the newly-appointed President, Chairman and Chief Executive Officer of Golden Entertainment. "With Golden Entertainment, we now have a national, diversified gaming company with strong assets across the country. And with this infrastructure, we look forward to further enhancing our unique blend of distributed gaming, casinos and taverns."
Lyle Berman, former Chairman of Lakes Entertainment, added: "Our cash along with the Rocky Gap Casino, when combined with the diverse operations of Golden Gaming, provides an exciting growth opportunity for our existing and future shareholders. The combined company's refinanced debt will provide an immediate benefit in company net income and free cash flow."
In connection with the closing of the merger, the size of the board of directors of the combined company was increased from five to seven. Larry Barenbaum and Ray Moberg resigned from the formerly Lakes Entertainment board. Subsequently, Blake Sartini was appointed the new Chairman of the Board of Golden Entertainment, and the remaining three vacancies were filled by the following appointees:
Mark Lipparelli – Chief Executive Officer of Gioco Ventures, a strategic advisory and product development firm serving the gaming, investment, technology and entertainment industries across the globe. Lipparelli also currently represents State Senate District 6 in the Nevada Legislature, a post he has held since December 2014. Lipparelli is a board trustee of the University of Nevada Foundation, board member of the National Center for Responsible Gaming and served as a board member and Chairman of the Nevada State Gaming Control Board between 2009 and 2012.
Robert Miodunski – former Chief Executive Officer of American Gaming Systems from 2010 until its acquisition by Apollo Entertainment in late 2014. Miodunski also previously served as Chief Executive Officer of Alliance Gaming Corporation from 2001 to 2004 and President of United Coin from 1994 to 1999. From 2005 to 2008, Miodunski served on the board of directors of Elixir Gaming Technologies, Inc.
Terrence Wright – Chairman of the Board and majority owner of Westcor Land Title Insurance Company, a company he founded in 1991 and which is licensed to issue policies of title insurance throughout the United States. Wright is currently on the board of Southwest Gas Corporation, is an emeritus member and past chairman of the University of Nevada Las Vegas Foundation Board and is the past chairman for the Nevada Development Authority, the Nevada Land Title Association and the Nevada Chapter of the Young Presidents' Organisation.