By
Lewis
- 21 January 2021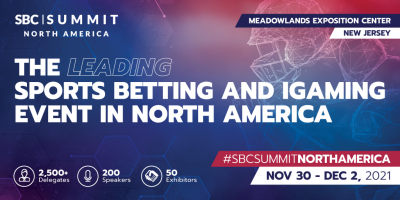 SBC is expanding its Betting on Sports America (BOSA) conference and exhibition to incorporate the online gaming segment of the U.S. entertainment landscape.
Under the umbrella brand of SBC Summit North America, the new look event will still be held at the Meadowlands Exposition Center in New Jersey, but will be rescheduled to November 30 – December 2 reflecting the current uncertainty caused by COVID-19 for events this summer.
BOSA was due to take place in June but, following discussions with sponsors, partners and operators, the event has been moved to later in the year to allow all participants to plan for it with a greater degree of certainty.
"After discussing the current COVID situation in the U.S. with our partners, it was clear that rescheduling Betting on Sports America was the right decision for everyone involved," commented Rasmus Sojmark, Founder & CEO of SBC.
"The move will allow us to stage a better event in December, with more speakers, a broader agenda, and 2,500 delegates able to attend the new, wider-ranging SBC Summit North America."
As a result of the date change and in order to help fulfil the sports betting and igaming industry's ongoing requirement to connect and share information, the SBC Digital North America online conference and expo has been brought forward to June 9 – 10.