By
Phil
- 12 March 2015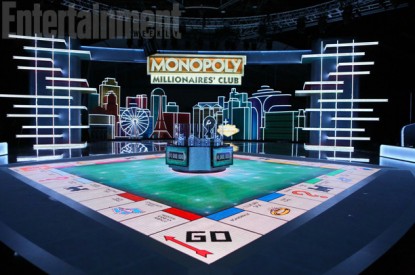 Monopoly Millionaires' Club, the first-of-its kind television game show will launch a new multi-state companion lottery scratch ticket.
With as many as 14 state lotteries joining immediately, and more states to follow, the Monopoly Millionaires' Club lottery scratch ticket created by Scientific Games under license from Hasbro, will debut in March 2015 just in time for the new premiere date of the Monopoly Millionaires' Club television game show on March 28 and 29. Monopoly Millionaires' Club is hosted by actor, comedian and television star Billy Gardell, who starred in Mike & Molly, You, Me and Dupree, and co-hosted by Todd Newton of Family Game Night and Hollywood Showdown fame.
Originally created as a multi-state lottery draw game in 2014, the following states will be the first to roll out this exciting new scratch ticket: Arizona, Georgia, Indiana, Kentucky, Maine, Minnesota, New Jersey, New Mexico, New York, North Carolina, Pennsylvania,Rhode Island, South Dakota and Tennessee.
"This lottery scratch game captures the essence and fun of the Monopoly Millionaires' Club game show that has already started production in Las Vegas," said Steve Saferin, President of properties group and Chief Creative Officer for Scientific Games. "The studio audience reaction to the show has been wildly enthusiastic, and there's no better way to celebrate the 80th anniversary of Monopoly than to give fans of the game yet another way to play."
Scientific Games Productions recently kicked off production on Monopoly Millionaires' Club at the Rio All-Suite Hotel & Casino in Las Vegas inside a custom-built, 48,000 square-foot, state-of-the-art structure. Mr. Gardell stood atop the multi-million dollar LED floor displaying the iconic Monopoly board before an audience of winners from participating state lotteries, and guided contestants through their journey to possibly win $1m.
During the first week of production, the show had its first two $1m winners and awarded a grand total of over $3.5m in cash and prizes.
"I've never seen anything like watching these contestants win this life-changing amount of money," said Mr. Gardell. "It is hands-down one of the best experiences I've had in my career."
"In my 20 years of producing TV game shows, this is definitely the most overwhelming response from an audience based on how quickly two new millionaires were minted during these tapings," said Scott St. John, executive producer. "No other show I've produced – or seen – has ever given away this much prize money this quickly."
With a live studio audience made up of the winners and their guests, totalling almost 400 people each day, contestants were selected at random from the registered trip winners to play a series of games, each offering cash and other prizes, with a total value of up to$2.5m per episode. The final round offers a single lucky contestant a shot at a $1mprize. Plus, each section of the audience shares in their contestant's winnings from the show. Mr. Gardell and local segment game host Todd Newton led contestant play in games such as Community Chest, Ride the Rails and Electric Company, and between the national and local show segments, handed out cash and prizes worth over $3.5m.