By
Phil
- 6 September 2017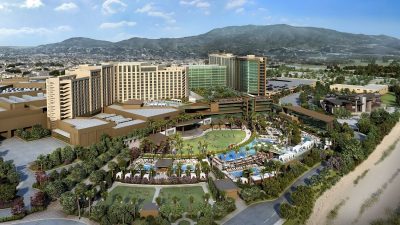 Scientific Games will soon kit out the West Coast's largest resort-casino with 4,200 new iVIEW4 on-device player-interface controllers.
Pechanga Resort & Casino in Temecula, California, awarded Scientific Games the contract to install the award-winning technology units inside all slot machines across its 200,000 square foot casino floor. iVIEW4 provides unrivaled marketing opportunities and player experiences through its interactive and personalised player content capabilities.
Pechanga Resort & Casino is installing Scientific Games' transformative new iVIEW4, a state-of-the-art solution which displays dynamic marketing content, animations and video on the gaming machine, supports cardless play, and offers instant response through a sophisticated multi-touch display.
Pechanga Resort & Casino Chief Marketing Officer Bill Anderson said,"We're excited to upgrade our iVIEW technology casino-wide and begin capitalising on the operating efficiencies and more powerful marketing content capabilities. The sophistication and features of iVIEW4 will provide a superior customer experience, enabling us to deliver highly interactive, personalised, and dynamic content – providing the next-level experiences our guests expect from Pechanga."
Scientific Games' robust new iVIEW4 technology supports Fast-Boot for seven times faster start-up, and 10 times more memory for games and content. Utilising an advanced upgradeable operating system, iVIEW4 supports HTML5 graphics and uses web widgets to enable casino marketing teams to easily update content dynamically throughout the casino on Pechanga's 4,200 gaming devices with current promotions, advertisements, videos and more – significantly enhancing the player experience.
The new technology also enables web-based content, which provides improved content management for casino personnel and enhances omni-channel marketing and bonusing opportunities across iVIEW displays, player kiosks, and mobile devices.
Scientific Games offers multiple applications that seamlessly integrate with iVIEW and iVIEW DM, including the Elite Bonusing Suite® of 12 turn-key promotions for instant rewards at the point-of-play and Beverage Ordering Service System ("BOSS"), a touch-enabled interface that allows players to order drinks without leaving the slot machine. For seamless third-party integration, iVIEW4 features more hardware ports and improved software architecture for interfacing with third-party solutions.
Scientific Games Bob Parente, Chief Revenue Officer, Gaming, said: "We are thrilled that Pechanga Resort & Casino has chosen to replace their legacy iVIEW technology with our iVIEW4, enabling them to better market and communicate with their players through this innovative technology. Pechanga has been a great partner for many years, and was one of the first casinos to implement iVIEW DM across their casino floor. They are always on the cutting edge and the capabilities of our next-generation iVIEW4 will undoubtedly enable them to offer their patrons even more engaging, visually exciting, and interactive experiences, rewards, and entertainment."