By
Phil
- 28 May 2015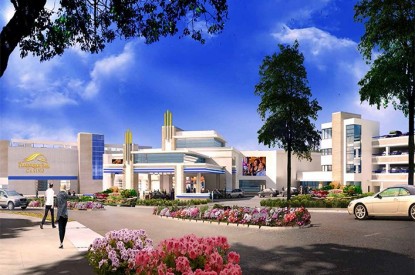 Penn National Gaming's new Plainridge Park Casino, Massachusetts' first casino, located in Plainville, Massachusetts, will open with a broad suite of Scientific Games' systems and games solutions to drive casino revenue and operating efficiencies and empower an exceptional gaming experience for players.
Scientific Games hit several significant milestones with the Penn National Gaming agreement. The company's Bally, WMS, and Shuffle Master-branded games will account for 44 percent floor share of new gaming devices, and Plainridge will be the first casino in the country to implement a Bally play-management system for responsible gaming, which is a voluntary option for customers and is required by the Massachusetts Gaming Commission.
Gavin Isaacs, President and Chief Executive Officer, Scientific Games, said: "We are honoured and excited to expand our long-standing and thriving partnership with Penn National by providing Plainridge Park Casino such a broad portfolio of our products representing our popular Bally, WMS, and Shuffle Master product brands across systems and games.
"Since our merger with Bally Technologies late last year, we have been able to leverage the breadth and diversity of our combined product library to extend value and drive better business outcomes for our customers as a single provider partner – creating trailblazing and entertaining experiences for players and helping operators optimize their investments."
Plainridge Park Casino, scheduled to open in June 2015, selected Scientific Games as its exclusive partner for casino-management, player-tracking, and rewards systems. The Bally ACSC and CMS systems will connect Plainridge's 1,250 gaming devices, each of which includes the Bally iVIEW or iVIEW Display Manager (DM) player-user-interface to provide players with convenient touchscreen access to self-service beverage ordering, club account information, second-chance bonuses, rewards, and other features. Across the casino's high-speed, networked floor, the Bally Elite Bonusing Suite (EBS) will deliver Massachusetts' new player base entertaining, exciting second ways to win through its iVIEW-enabled suite of interactive secondary bonus applications and in-game tournaments.
The new casino will also deploy a Bally play-management system, the first automated systems-based responsible gaming technology in the US Integrated with the Bally ACSC system and iVIEW network, this solution enables participating players the voluntary option of identifying how much coin-in they want to spend. The system then provides notification when the player has reached her or his pre-determined limit, and asks the player to acknowledge the notification.
In addition, Plainridge Park Casino will offer its players a wide variety of Scientific Games' most sophisticated games platforms and more than 400 Bally, WMS, and Shuffle Master game titles – accounting for 44 percent of the new electronic gaming devices on the casino floor.
Plainridge Park Casino will open with Scientific Games video, spinning reel, and specialty game platforms including BLADE, Fusion, and the Pro Series V22/22, V27/27, V32, Stepper and Wave. Plainridge Park Casino's players will be entertained by an array of different variations of the Company's most popular game titles, including Blazing 7s, Black and White, Hot Shot, In The Money,Playboy, Quick Hit, Reel 'em In!, as well as hit games such as Monopoly Luxury Diamonds, Roulette, and Wonder Woman Gold.