By
Phil
- 15 March 2018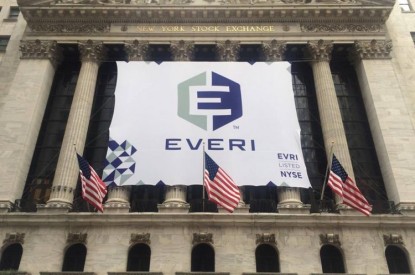 Everi said it had 'established a solid foundation for consistent growth' following a strong fourth quarter which saw revenues increase 14 per cent to $247.9m.
The quarter marked Everi's sixth consecutive quarter of growth. For the full year, revenue increased 13.4 per cent to $974.9m and Adjusted EBITDA rose 7.5 per cent to $212.8m, which exceeds the upper end of its guidance range full-year, revenue increased 13.4 per cent to $974.9m
Michael Rumbolz, President and Chief Executive Officer of Everi, commented: "We continue to gain traction in the market by enhancing our existing products and providing new product offerings to help our customers engage more closely with their guests and more productively manage their operations. Our industry-leading Payments systems are stronger than ever. This is true of our traditional cash access products and our newer solutions, such as our comprehensive Everi Compliance portfolio, which are collectively driving consistent growth."
For the full year, Payments revenue increased 16.4 per cent and Adjusted EBITDA rose 18.1 per cent powered by a high level of competitive take outs, wins at new casino openings, expansion of the company's cash access services into Canada and very strong growth in its compliance revenue.
Everi also achieved notable success in its games segment in 2017.
"We expanded our product diversity for the slot floor with the introduction of our first wide-area progressive link, new licensed content themes, and a new gaming cabinet form factor, the Empire MPX (E43)," Mr. Rumbolz added. "The performance of our newest games and cabinets led to improvements in our daily win per unit, which increased year over year in the fourth quarter for the first time in eight quarters. In the first half of the year we stabilized our installed base and then returned to unit growth, ending the year with 13,296 installed units. Importantly, we have built a solid base that includes more than 350 wide-area progressive games at 2017 year-end. We expect to further grow our installed base and return to achieving consistent year-over-year growth in daily win per unit going forward. In July, we also secured the placement of approximately one third of our installed base for almost seven years with the execution of a new placement arrangement with our largest customer in Oklahoma.
Everi said it had received 'a positive player and customer response' to its Core HDX video cabinet, its Player Classic mechanical reel cabinet and its newly introduced E43 large format single-screen cabinet. This helped to deliver a 23 per cent year-over-year increase in unit sales to 3,647 units.