By
Phil
- 5 August 2013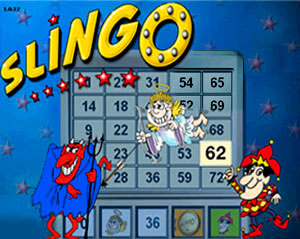 RealNetworks has bought Slingo, one of the most popular social casino games on the Internet with its combination of slot machines and bingo games for US$15.6m.
Around 4.5m people play versions of Slingo each month on facebook with millions more playing it on mobile handsets, on slingo.com, and in physical slot machines in casinos around the world.
Rob Glaser, Founder and interim CEO of RealNetworks, said:  "We are thrilled to have acquired Slingo, one of the most beloved products and brands in social casino gaming. We look forward to bringing Slingo, an extremely fun combination of slots and bingo, to even more fans around the world. Our team is hard at work creating even more compelling new versions of Slingo for Facebook, iPhone, iPad and Android."
For the past 17 years, Slingo, has leveraged the game's popularity across platforms that have engaged legions of fans. It launched on facebook in February 2012. When heavily marketed, a version of Slingo had more than 50m monthly active users. Slingo Supreme for iOS is consistently ranked as the No. 1 paid casino app on iTune. Slingo-branded slot machines launched in 2001 and are featured in more than 300 bricks and mortar casinos across the US.
"Slingo has been a successful, compelling product on every major games platform over the past 15 years," said Rich Roberts, CEO of Slingo. "By joining forces with RealNetworks, we look forward to taking Slingo to the next level. We're thrilled to be joining RealNetworks' GameHouse division."
The news came as RealNetworks announced its new GameHouse Casino Plus, the first social casino game to use a sweepstakes to offer US consumers an opportunity to win a life-changing cash prize. Based on Real's highly regarded GameHouse Casino product on Facebook, Casino Plus offers this breakthrough with a monthly sweepstakes promotion. Each month, one lucky entrant will win $100,000.
Mr. Glaser commented: "The social casino space is ripe for innovation. Now all games on GameHouse Casino Plus; slots, video poker, blackjack and roulette, will offer players the opportunity to collect Golden Tickets, which they can use to enter the Golden Dreams Sweepstakes and have a chance to win $100,000. This goes far beyond the industry standard of virtual coins and makes a fun game even more exciting."
"This is a powerful approach," Ken Murphy, Vice President and General Manager of GameHouse, added. "GameHouse Casino Plus now delivers the excitement of a chance to win real cash through a staple of American culture, a sweepstakes."