By
Phil
- 20 October 2017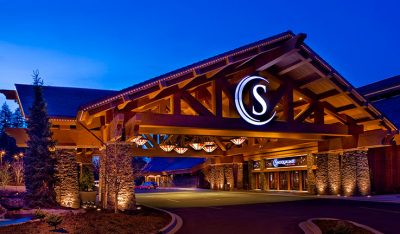 Scientific Games will be installing its innovative suite of system products and devices at Snoqualmie Casino located in Snoqualmie, Washington, just minutes from downtown Seattle.
Scientific Games' slot, table and casino management systems will manage Snoqualmie Casino's 51,000-square-foot gaming floor, boasting 1,770 slots and 55 tables, replacing the current competitive system. The contract also includes the purchase of 800 gaming machine devices over the next three years and the incremental installation of 20 premium games to the casino floor.
"We are extremely impressed by Scientific Games' solid reputation for high-quality products and services, as well as for the superior performance and reliability of their system solutions. After much deliberation, we chose Scientific Games' casino management, marketing, and customer service systems to enable us to run our casino floor more efficiently and effectively," said Robert Crowe, Chief Financial Officer of Snoqualmie Casino. "We are confident that these systems will increase player engagement and casino personnel productivity, and will ultimately deliver a significant return on investment."
The management systems being installed include the SDS slot-management system; TableView real-time table management system; CMP player-loyalty system; and the advanced Business Intelligence application which will allow Snoqualmie Casino to gather and analyse valuable player and operations data.
Marketing solutions include the Elite Bonusing Suite, a group of applications that will allow Snoqualmie Casino to interact with and reward players at the point of play via Scientific Games' iVIEW and iVIEW Display Manager on-device messaging technology.
Solutions that will enhance customer service are also being installed, including the Servizio™ Mobile Service Solution which enables casino personnel to perform a number of customer service tasks efficiently and on-the-go; as well as the Beverage Ordering Service System ("BOSS") which enables patrons to order drinks on the iVIEW touch-screen display on the gaming machine they are playing.
"Scientific Games is thrilled that Snoqualmie Casino has chosen our systems to manage their first-class gaming facility. We look forward to establishing a long, successful partnership with Snoqualmie Casino, providing quality products and services into the future," said Cath Burns, Senior Vice President Gaming Systems of Scientific Games. "Snoqualmie Casino will be the 23rd casino out of 30 tribal gaming properties in Washington State to install Scientific Games' systems. We are honored that so many operators in the region have chosen us as their systems partner."