By
Phil
- 20 April 2016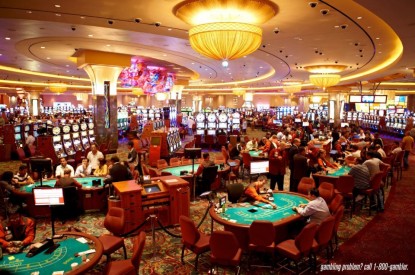 Gross revenue from gambling at table games in Pennsylvania casinos during March 2016 eclipsed the previous high revenue month and was 11.7 per cent higher than March of last year, according to figures released today by the Pennsylvania Gaming Control Board.
March's gross table games revenue was $77,914,245 compared to $69,770,440 in revenue produced by casinos during March 2015.
The previous high-water mark for table games revenue occurred in December 2015 at $72,223,959.
Total tax revenue from table games play during March was $11,052,726* with an average of 1,178 tables in operation statewide on a daily basis. Table game tax is calculated as 14% of the gross revenue.
Sands Casino Resort Bethlehem led the way for the state's 12 casinos, generating $19.6m in table games revenue last month, representing an increase of 14.8 per cent from March 2015.
Over in Bensalem, Bucks County, Parx Casino saw the biggest increase in its table GGR, up a huge 27.6 per cent on last year's figures with table revenue coming in at $15.3m. That total helped Parx to secure its place as the top earning casino in the state, generating $49.9m in total revenue, representing an increase of 11.9 per cent. Sands came in second place with a total GGR of $46.9m, up 8.3 per cent.
Overall, with slots reporting a 1.7 per cent increase in revenue for March, the total gambling revenue increased by 4.2 percent for March, year-on-year reaching $277.5m.
The average number of slot machines operating throughout Pennsylvania was 26,415 in March 2016 compared to 26,336 in March 2015. The top two remaining casinos remained in the same position with Parx earning the most from slots in March and Sands Bethlehem in second place.
Slot machine gaming in Pennsylvania generated $246 million to support the state's horse racing industry, according to the Pennsylvania Gaming Control Board's annual Racetrack Casino Benchmark Report, released today.
The report, which covers calendar year 2015, is the 9th compiled by the Gaming Control Board detailing the impact of Pennsylvania casinos on the state's horse racing industry.
In accordance with the Pennsylvania Race Horse Development and Gaming Act, approximately 11% of revenue generated from slot machine gaming is earmarked for the racing industry and agricultural initiatives. The 2015 figure represents a 1.6 per cent increase over 2014. This revenue is distributed to both the thoroughbred and standardbred racing industries to enhance purses, assist breeding operations, and provide health and pension benefits for horsemen.
"An uptick in 2015 in the amount of slot machine revenue generated by casinos over the previous year led to a distribution of nearly $3.8m more to the Race Horse Development Fund," said the PGCB's Director of the Office of Racetrack Gaming, Kevin Kile. "This revenue, combined with more than $65m in backstretch improvements since 2006, has provided enhanced conditions for personnel who work and reside in and around the stable and backside areas of the racetracks."