By
Phil
- 23 August 2017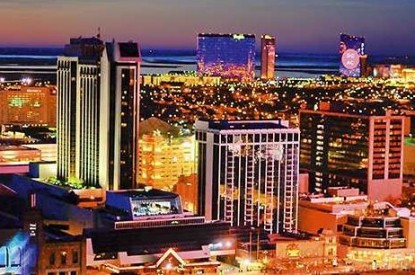 For the third consecutive quarter, Atlantic City's seven remaining casinos generated double-digit growth in gross operating profits.
The New Jersey Casino Control Commission said that the city's casinos saw profit increase by 16.2 per cent during the second quarter of this year. Gross operating profits came in at $169.3m in the second quarter, up from $145.7m for the corresponding period last year.
Matthew Levinson, Chairman and CEO of the Casino Control Commission, said: "Revenue, occupancy rates and profits all increased, and with everything else that's going on or going up in Atlantic City right now, I think the industry's future looks a little bit brighter every day. They must be doing something right."
Atlantic City had 12 casinos going into 2014. The five closures have contributed to the increases at the remaining casinos.1:The occupancy rate in the industry's casino hotels for the six months ended June 2017 was 85.8 per cent, which is 6.9 percentage points higher than the comparable period last year.
The city's remaining casinos saw their profits increase by more than Gross operating profits for the year are up more than 20 percent, totalling more than $308.6m.
Colin Mansfield, Director at Fitch Ratings said though that the market remained stagnant.
"If you look at the market in terms of profit it looks healthy," he said. "But if you look at the other numbers it's still a $2.4bn market over a rolling 12-month period. It should remain this way until through 2018. I don't see it moving one way or the other."
Total gambling revenue, including internet gaming, came in at more than $1.7bn during the first six months.
David Rebuck, Director of the Division of Gaming Enforcement, added: "The results for 2017, thus far, show the ongoing stability in the casino industry's revenue and an overall improvement in Gross Operating Profit. These latest financial results, combined with the renewed interest in Atlantic City, continue to provide a basis for optimism regarding the casino hotels and overall tourism in Atlantic City."
Five of the seven casinos saw a jump in gross operating profits through the second quarter of the year with the Tropicana seeing the biggest increase, up 105 per cent in the second quarter to $35m. Resorts saw profits of $9.5m, representing an increase of 63 per cent. Golden Nugget reported a 27 per cent increase with profit of nearly $17m whilst Caesars profit surged by 25 per cent reaching $45.6m. The market leading Borgata saw profits reach $129m, marking an increase of 22 per cent.
The two casinos with falling profits were Ballys, down five per cent at $16m and Harrah's down 5.8 per cent at $50m.
July saw a slight decline. Casino win came in at $247.3m compared to $257.9m in July 2016, reflecting a 4.1 per cent decrease. Internet Gaming Win was $20.6m in July compared to $17.4m in the prior period, reflecting an increase of 18.5 per cent. The Industry's Total Gaming Win for the month was $267.9m compared to $275.3m for July 2016, reflecting a 2.7 per cent decrease. For the year-to-date, the Industry's Casino Win totalled $1.417bn through July 2017 compared to $1.410bn in the prior period, reflecting an increase of 0.5 per cent. Thanks to the growth in internet gaming though the Industry's Total Gaming Win increased to $1.559bn, reflecting an increase of 2.4 per cent compared to the same period last year.
Mr. Rebuck added: "While there are fluctuations in monthly revenue, it is encouraging that Atlantic City's current operators' casino win figures are up nearly 10 per cent for the year so far, illustrating that overall, there is continued stabilisation in the industry."
Mr. Levinson added: "It is clear that business is building for the seven operating casinos, and I am optimistic it will continue to grow in the months ahead."