By
Phil
- 29 February 2016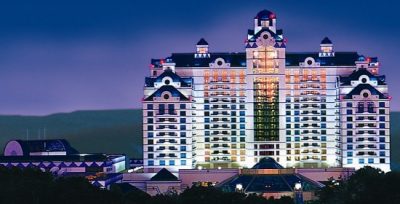 TransAct Technologies' Epicentral Promotion and Bonusing System has been selected by Foxwoods Resort Casino in Mashantucket, Connecticut.
It will power the new FoxPerx slot bonus program which will debut on March 1, 2016 in the Fox Tower and Grand Pequot Tower casinos. Epicentral will go live at Foxwoods Resort Casino on approximately 1,900 electronic gaming devices.
Launching March 1, FoxPerx from Foxwoods Resort Casino is an exciting new daily slots bonusing program for its Foxwoods Rewards members. Foxwoods Rewards cardholders can participate in the program simply by playing their favorite machines. Every few minutes a slot player using their loyalty card wins a bonus ticket redeemable for cash prizes of $5 to $500 or prizes including gift cards for many of Foxwoods' favourite dining and shopping offerings.
"We are excited that Foxwoods Resort Casino has chosen our Epicentral Promotion and Bonusing System to help power their new FoxPerx slot rewards program," said Bart Shuldman, Chairman and Chief Executive Officer of TransAct Technologies. "In an increasingly competitive industry environment, Epicentral is a unique, powerful tool that will help Foxwoods drive increased visitation and play among their rated players while serving to catalyze new player enrolment in their loyalty program. Foxwoods Resort Casino clearly understands that their customers demand great gaming entertainment and rewarding experiences each time they visit and we believe that their new FoxPerx program, powered by Epicentral, will enable Foxwoods to provide guests with an unmatched promotional environment throughout the property."
Epicentral is the gaming industry's only enterprise-level promotion and bonusing software system, designed to vastly simplify for casino operators the process of attracting, rewarding and retaining players. Foxwoods' slot management and marketing teams will be able to leverage Epicentral's easy-to-use software suite to deliver FoxPerx rewards in real-time directly to customers at select slot machines, all at the click of a button. Deployed alongside TransAct's ServerPort device and Epic 950 ticket printer which are installed in each gaming device, Epicentral's real-time promotion delivery capabilities will help make FoxPerx a unique new amenity at the Northeast's largest resort casino.
"Our team is committed to providing guests with competitive, compelling and thrilling bonuses each time they visit Foxwoods and we are always looking for new technology solutions that help us differentiate our gaming offerings," said Eric Pearson, Vice President of Gaming and Revenue Enhancement at Foxwoods Resort Casino. "We believe Epicentral system has an unmatched real-time capability to supplement the player experience, drive increased play across our casino floor and offer our players new ways to win. I know our players will value FoxPerx and the unique new bonuses this program will deliver."
Felix Rappaport, President and CEO of Foxwoods Resort Casino, added: "We are always looking for new and innovative ways to reward our guests and give them memorable experiences and more reasons to make Foxwoods their resort casino of choice. The FoxPerx program delivers just that by providing another level of excitement , adding a fun, fresh and easy new element for players who come to take in the 'Wonder Of It All' at our casinos. With FoxPerx, why would players in New England go anywhere else?"