By
Phil
- 15 January 2019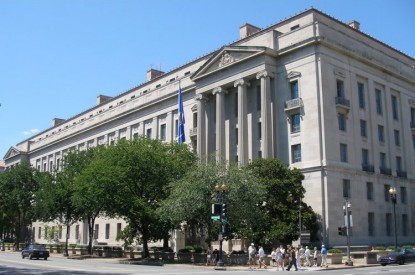 In a move that has the potential to derail interstate online gaming industries in North America, the US Department of Justice's Office of Legal Counsel has decided to make a U-turn on its 2011 opinion that the Federal Wire Act applies only to sports betting.
The counsel has now claimed that the 1961 Wire Act bans not only the interstate transmission of sports betting but also casino, lottery and all other forms of online gambling.
In a 23-page opinion published on the Justice Department's website, Steven Engel, assistant attorney general in the Office of Legal Counsel, said: "We do not lightly depart from our precedent. But having reconsidered our conclusion but. based on the plain language of the issue, we reach a different result. The 2011 Opinion, in our view, incorrectly interpreted the limitation "on any sporting event or contest to apply beyond the second prohibition that it directly follows: the prohibition on transmitting "information assisting in the placing of bets or wagers."
"While the Wire Act is not a model of artful drafting, we conclude that the words of the statute are sufficiently clear and that all but one of its prohibitions sweep beyond sports gambling," it added. "We further conclude that that the 2006 enactment of (Unlawful Internet Gambling Enforcement Act) did not alter the scope of the Wire Act. The Criminal Division has asked us to reconsider our 2011 Opinion.
In its conclusion it stated: "The Wire Act prohibits persons involved in the gambling business from transmitting several types of wagering-related communications over the wires."
Following the DoJ's original opinion in 2011, states such as New Jersey, Nevada and Delaware moved to legalise online gaming, followed more recently by Pennsylvania.
The Justice Department's revised opinion has led to industry concern and confusion over how it could be interpreted and enforced.
One lawyer specialising in online gaming described the DoJ's revised opinion as being of 'no significant value.'
Washington DC-based Jeff Ifrah pointed to 'more careful analysis issued by the two highest federal courts of appeal that have reviewed this precise question.'
"This opinion standing alone, of course, changes nothing and is of no significance or value," he said. "It is unfortunate that the Office of Legal Counsel appears to have been manipulated to issue an opinion for purely political purposes. This Opinion has not yet been implemented into an enforcement action, so worry about the legality of sports betting and online gaming may be premature. However, the opinion seeks to push these questions to eventual litigation and clarification by the courts or action by Congress. It is worth noting that opinions are not binding precedent and have no immediate or discernible effect upon federal prosecutorial priorities."
Others believe that it will result in court action as state regulators and interstate digest the detail of the opinion.
Eilers & Krejcik Gaming analyst Chris Grove believes it will 'head to the courts sooner rather than later' adding that it would 'further delay Pennsylvania's rollout of online casino gambling.' He added that there could be some impact on gambling that involves 'cross-border participation or interstate participation.'
Anthony Cabot, a lawyer at UNLV's Boyd School of Law, said the threat was that the DoJ would look to prosecute operators participating in intrastate online gambling.
He said the opinion could even be deemed illegal if the sender and receiver of the bet are in the same state. This, he advised, would affect online poker in Nevada and potentially also mobile wagering on sports.
The American Gaming Association said: "We are reviewing the opinion and the implications to the casino gaming industry, consumers and the eight states that currently offer legal, regulated sports gaming."
The Sheldon Adelson-backed Coalition to Stop Internet Gambling welcomed the new DOJ decision, saying the previous interpretation of the law was 'as problematic legally as it was morally.'
Spokesperson and former senator Blanche Lincoln said: "This decision seamlessly aligns with the Department's longstanding position that federal law prohibits all forms of internet gambling, as well as with Congress's intent when it gave law enforcement additional tools to shut down the activity through the overwhelmingly-passed Unlawful Internet Gambling Enforcement Act in 2006. Today's landmark action to rightfully restore the Wire Act is a win for parents, children and other vulnerable populations."
Nevada Congresswoman Dina Titus didn't agree though. "Though the full impact of this reckless DOJ reversal remains to be seen, we can be certain that it will inject uncertainty into a well-regulated market and push consumers back into the black market,' she warned. 'Unfortunately, the Trump Administration only supports states' rights when it is politically convenient. Despite this setback, I will continue to lead the fight in Congress to ensure states like Nevada can decide what is best for them on the question of online gaming."
Christopher Soriano, a partner in the gaming group in the Cherry Hill, New Jersey, highlighted interstate online lotteries as being most at risk although he suggested that any operator facing prosecution for violating the Wire Act would undoubtedly launch a challenge to seek a 'definitive interpretation' which would likely take several years.
Mark Hichar, a lawyer with Greenberg Traurig in Boston, said: "If the Wire Act is enforced per yesterday's DOJ opinion (ie., applicable to ALL types of gambling, not only sports betting) it could have a profound adverse impact on state lotteries and the good causes they serve. Traditional lottery sales would be affected as well as iLottery."
Daniel Wallach, a Florida-based gaming law attorney, said he sees no reason for daily fantasy sports operators to push the panic button.
The word 'fantasy' does not appear anywhere in the opinion, and notably The Wire Act is about 'bets or wagers.' There is a body of case law that finds that a daily fantasy sports entry fee does not constitute a bet or wager," he explained. "There are issues of great public importance because of the industries impacted. There is a strong possibility that this case could wind up at a Circuit Court, and then maybe even the Supreme Court.Public education could be one of the unintended casualties of the DOJ Wire Act opinion. Last year, the New Hampshire Lottery (which conducts online sales) delivered more than $86.5m to support public education in New Hampshire."