By
Phil
- 5 January 2021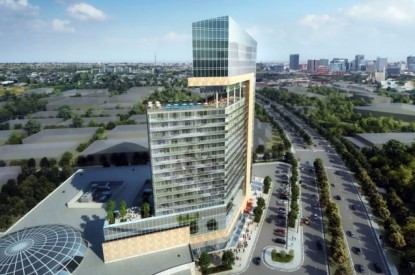 Virginia's Mayor Levar Stoney has confirmed that the city has issued a request for qualifications/proposals, launching a competitive process to bring a world-class resort casino to Richmond, subject to voter approval. The proposals are due to the city by February 22, 2021. At that time, the administration will begin the selection process, which will include resident feedback and third-party expert consultation.
Legislation adopted by the Virginia General Assembly and signed into law by Governor Northam earlier this year authorises the city to host a casino gaming establishment, subject to the residents of Richmond approving a casino referendum. That referendum is anticipated to be on the ballot in November of 2021. The law requires that, prior to requesting the court to order a casino referendum, the city select a preferred casino operator and location.
"This competitive selection process will allow us to find the best opportunity for Richmond, an economic development project that includes well-paying jobs and workforce training opportunities," said Mayor Stoney. "Ultimately, the operator selected for this project must bring to the table the economic opportunity and community benefits voters will support in November.
"This project represents a tremendous opportunity to facilitate significant economic development at the sole expense of the casino operator, which will boost the city's entertainment and tourism industry, create jobs, and provide significant new revenues to the city," said Director of Economic Development Leonard Sledge. "We anticipate multiple qualified entities to be interested. Subjecting potential operators to a robust competitive review process ensures that the city can make the most of this opportunity on behalf of its residents."
So far, three companies have come forward. The Pamunkey Indian Tribe, who is building a $500m casino resort in Norfolk, has lodged its interest. As has Revolutionary Racing of Chicago, which owns and operates the Colonial Downs Racetrack and Rosie's Gaming Emporiums, and Urban One, a Maryland-based company.
The city will review the responses to the RFQ/P and evaluate the comparative merits of each potential operator's vision for a Richmond resort casino and the socioeconomic benefits that such a project may bring to Richmond, its residents and its business community.
The city encourages interested parties to propose a Casino project that 'induces capital and ongoing investment in the city to make a significant and lasting contribution to the community.'
It should create 'sustainable and well-paying jobs, new employment opportunities, and workforce training programs for Richmond residents' and act 'as a catalyst for additional economic development in the city and enhances the city's economic and community development objectives.' It should contribute 'to the city's efforts to attract sustainable economic benefits from tourism' and maximise 'the economic impact of the project by including components beyond gaming, including hotel, non-gaming entertainment, or other commercial activities.'
It should support 'the city's mission to facilitate, produce and advance opportunities for minority business enterprises and emerging small businesses to successfully participate in the full array of contracting opportunities available in the City of Richmond' and 'support the existing Richmond entertainment community, providing high-quality development of which Richmond can be proud.'
The casino will be located in 'an area supported by the community as an appropriate location for a casino and mitigates any potential adverse impacts on the community, the city and residents.'
Caption: The Pamunkey Indian Tribe's plans for Richmond