By
Phil
- 27 November 2018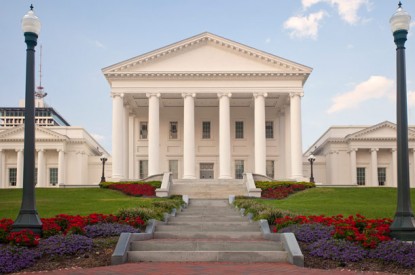 Virginia has become the latest US state to make a definite move towards regulating sports betting with one bill recently presented and another expected soon.
The Virginia market would be different to any sports betting market that has opened so far stateside as there are no casinos or racetracks in operation to house any future betting facilities and no existing player bases to market to.
It could though be overseen by the Virginia Lottery who would be able to 'enter into contracts with other states related to sports betting.'
Delegate Mark Sickles has already filed a bill to allow five remote-only sports betting licenses to be issued for three year periods.
The market he envisions wouldn't offer any in-person betting options with House Bill 1638 instead seeing betting carried out via a sports betting platform such as 'a website, app, or other platforms accessible via the Internet or mobile, wireless, or similar communications technology that sports bettors use to place sports bets.'
Licences would cost $250,000 each with operators being taxed at 15 per cent of revenue and with 2.5 per cent going to the state lottery, who would oversee the new market.
Delegate Sickles said: "This legislation provides a framework for an open, transparent and responsible market for legal sports betting. It will protect consumers while generating revenue to allow Virginia to compete for major research projects that create jobs and help to diversify our economy away from over-reliance on federal spending."
The legislation doesn't reference whether sports betting could be allowed at any of the 5,000 lottery retail locations around Virginia. Around 95 per cent of the tax generated would be spent on funding research projects at state universities via the Major Research Project Sub-Fund.
Analysts at Oxford Economics believe the market as proposed could generate a betting handle of $5.2bn and $380m in net revenue each year.
Virginia Senator Chap Petersen is preparing to present a bill called the Virginia Sports Gaming Tuition Reduction Act, in which state community colleges benefit rather than the universities.
Perhaps most pertinently, Senator Petersen doesn't want sports betting to not be limited to online platforms.
He said recently to the Virginia Mercury, "I'm not interested in people sitting in their parents' basement with their pyjamas on betting on a 'Monday Night Football' game, I want this to be part of a social entertainment package where people get out and spend money."
Eight states now allow sports betting. In the mid-Atlantic region that competes with Virginia, Kentucky, Maryland, North Carolina, Tennessee and Washington D.C. will all be looking to steal a lead on Virginia to be the next.
Related Stories