By
Phil
- 12 January 2016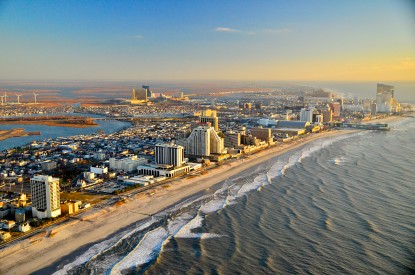 Legislators in New Jersey have agreed to allow voters to ultimately decide via an autumn referendum whether two new casinos should be built in the northern part of the state.
The proposal would firstly need support from three-fifths of lawmakers in both the Senate and Assembly. If both chambers approve the measure, the casino question will be placed on the November 8 ballot. The public will then vote on whether the constitution should be changed to allow casinos in other areas of New Jersey.
New Jersey Governor Chris Christie worked with Senate President Steve Sweeney and Assembly Speaker Vincent Prieto to reach the deal.
Governor Christie said: "This involved a great deal of compromise on the parts of all parties. Nobody here is getting exactly what they wanted or exactly what they asked for. If it's approved by voters, the gaming projects can get moving as quickly as possible."
If the referendum allows, existing casino operators in Atlantic City will be given six months to present proposals for two US$1bn casinos in northern New Jersey. The tender will be widened to existing operators outside of Atlantic City if none of the initial proposals meet the criteria, other license holders from outside Atlantic City will be permitted to bid.
Governor Christie added: "As the new session begins, the Sarlo/Sweeney version of the constitutional resolution will be introduced in both houses. There will be an addition to the Sarlo/Sweeney resolution. That addition is at the suggestion of the speaker, that, for each licensee there be a mandatory minimum $1bn investment in each license. So in each of the two licenses those projects must be worth a capital investment, at least, of $1bn each, in each of those licenses. There will also be the appropriate timelines that were in the Sarlo/Sweeney bill and that will address the ability to make this move quickly. After, if it's approved by the voters in November, the process can then move quickly, so that if it's approved that North Jersey gaming projects can get moving as quickly as possible. I have already clearly stated my support for the expansion of gaming to Northern New Jersey given the economic growth and job creation it will bring to our State. Delay puts the expansion of gaming in peril. That is not in the interests of anyone in New Jersey, North or South."
Whilst both Mr. Sweeney and Mr. Prieto supported the idea of casinos in northern New Jersey, as it would protect revenues from competition in New York state, they disagreed on who should operate the new properties.
Mr. Sweeney wanted the opportunity to be limited to operators who already run casinos in Atlantic City whilst Mr. Prieto wanted one license to be reserved for Atlantic City operators whilst one should be open to all bidders.
Senator Sweeney said: "We want real investment in north Jersey; we don't want slots in a box. This is extremely important to the entire state of New Jersey."
Senator Paul Sarlo believes the two new casinos will bring in $5bn in private investment to north Jersey.
"At the end of the day this could be an $8bn investment in our economy," he said. "This is a win for New Jersey, not for Atlantic City, not for north Jersey, but for New Jersey as a whole."
Senator James Whelan, expressed concern that the north Jersey casinos could one day be overshadowed by new casinos in New York City.
"What happens to North Jersey casinos when New York City inevitably gets one?" he asked. "It is foolish to think that gaming in North Jersey would do anything but cannibalize an already saturated market in the same way that casinos in Pennsylvania, Delaware, and Maryland have cannibalized ours."
Senator Gerald Cardinale believes though that limiting the licences, initially, to existing Atlantic City operators was testament to rewarding failure.
"These are the folks who have failed to capitalize on a monopoly," he said. "We're going to take a revenue stream and give it to a place that has failed to do good things with the money it has gotten. We should not be rewarding failure."
Senator Raymond Lesniak added: "I think it's a 100 per cent chance it will make it to the ballot. It has bipartisan support. Anything that puts on a ballot the opportunity for New Jersey to recapture the revenues that are going out of state is a good thing."