By
Phil
- 1 August 2013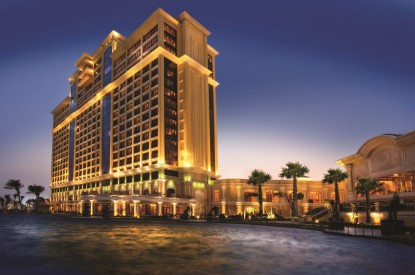 The first hotel casino at Vietnam's biggest ever tourism development; the Ho Tram Strip, opened for business in late July, marking the country's first integrated resort, The Grand – Ho Tram Strip.
The 541 room resort includes live table and electronic gaming facilities, meeting and convention space, thirteen bars and restaurants, a spa, teen's and children's areas, three swimming pools and luxury retail shops.
Work commenced in October 2012 on the second tower of The Grand, which will add another 559 rooms along with additional entertainment amenities, and bring the resort to a total of 1,100 rooms.
Colin Pine, General Director of the Ho Tram Project Company, the developer of the Ho Tram Strip, said: "This has been a monumental effort, and we stand here today not just launching a hotel, not just launching a casino- we are launching a new era of tourism for Vietnam – and I owe a huge debt of thanks to all of the team at the Ho Tram Project Company and all of our partners around the nation, all of the authorities that have been so supportive of this amazing property that we are opening today."
The Grand – Ho Tram Strip Vice President of Hospitality, Mr. John Webb concurred, saying that: "Nothing like this has ever been attempted here – and I can say it is both exciting and humbling to be creating history. A little piece of history starts today. I have lost track of the number of visitors we have had through here in the past few months, and everyone has the same reaction as they take in the size and scale of Vietnam's first truly integrated resort. It is over-awing. It is utterly magnificent. The response to our project has been phenomenal," said Mr. Webb. "We are fully booked already, to the point where we have had to reserve rooms at nearby resorts to deal with the overflow of people who are Ho Tram bound next weekend."
Indeed this reception has been widely shared by international tourism operators, who will form a key target audience for bringing high-end customers to the rooms, restaurants and tables of The Grand – Ho Tram Strip.
"I have personally led over 40 international tour companies through The Grand and I am excited by the incredible response to our integrated resort. Everyone who has walked through our doors has commented on our unique, elegant style and lavish casino gaming facilities. One tour company actually triple its original booking within 24 hours of visiting our site – a commitment of over 400 guests a month," said Michael Santangelo, The Grand – Ho Tram Strip Vice President and Chief Operating Officer.
The resort opened its doors today in an invite-only VIP event featuring the who's who of Vietnam's social scene, along with visitors from around the world. The property is off to a roaring start, with August and September beginning to fill up already.
The Grand represents the first integrated resort to open on the Ho Tram Strip, which will ultimately include a second integrated resort to be operated by Pinnacle Entertainment Group, and three other five star resorts, all to be set along a 2.2km beach-front, surrounded by protected forest, and located around 2.5 hours from Ho Chi Minh City.
The complex further includes a Greg Norman designed golf course, The Bluffs, which Mr. Norman himself recently described as "one of the three most beautiful courses" that he has ever been associated with.