By
Phil
- 12 March 2018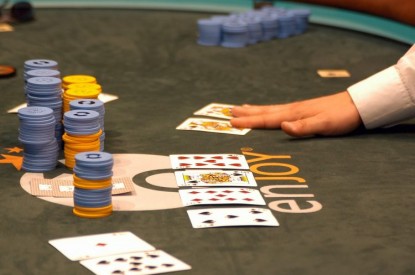 Leading Latin American gaming and resort company Enjoy has managed to make a drastic cut in its losses reducing them by as much as 98.04 per cent compared to last year.
The company recorded losses of CLP$ $776.38m during 2017 compared to CLP$ $39,673.15m in 2016. During 2017, revenues recorded by the firm totalled CLP$ $283,676.95m, 3.7 per cent above the CLP$ $273,564.33m registered during 2016.
In its fourth quarter report, Enjoy explained that the gaming segment of its business recorded an increase of 2.3 per cent year-on-year while the nongaming segment, related to hotels, restaurants and other services, registered growth of 7.8 per cent, which provided an overall boost to its balance sheet.
In cumulative terms, adjusted EBITDA stood at CLP$ $62,118m at the end of 2017, 0.4 per cent higher than the CLP$ 61,870m it recorded at the end of 2016.
The company did particularly well in its core markets of Chile and Uruguay. In Chile, revenues increased by 0.2 per cent year on year for the fourth quarter, driven by Enjoy Viña del Mar and its operations in the south. Meanwhile its non-gaming sector reported consolidated growth of 5.7 per cent year on year.
However, its gaming operations fared less well with income falling by 0.7 per cent year on year due to a lower NET WIN down 3.0 per cent, which was caused by a fall of WIN 9.2 per cent via gaming on its gaming hall tables, which in turn was caused by a fall in visitor numbers (down by 14.5 per cent year on year). However, this was partially compensated by higher activity in its VIP rooms, which was up by 10.6 per cent year on year.
In Uruguay in local currency, consolidated revenues increased by 7.1 per cent during the fourth quarter. In Chilean pesos, they were up by 1.9 per cent year on year driven by the non-gaming side of its business (up 12.0 per cent year on year) while gaming was down by 1.0 per cent year on year.
However while gaming income was down due to the fall in the value of the local currency gaming income in local currency actually increased by 4.1 per cent year on year driven by an increase in NET WIN of 12.5 per cent.
In August 2017, US based private equity firm Advent International announced that it had signed an agreement with the Chilean operator. Under the terms of the new agreement, Enjoy will remain publicly traded while the founding family of Enjoy the Martinez family will retain a substantial equity ownership position in the company.
Advent's investment will be made through a capital increase of up to US$170m and tender offer, according to Chilean regulation, for up to 100 per cent of the shares that shareholders are willing to sell in the tender offer. Bonds issued by Enjoy increased by nearly as much as eight points on the back of the news.
Founded by the Martinez family in 1975, Enjoy is a leading gaming operator in Chile and Uruguay. The company owns and operates ten casinos and ten hotels in Chile, Uruguay, Argentina and Colombia, with more than 6,000 slot machines, 350 gaming tables, 1,200 hotel rooms and 30 restaurants.
Chairman of Enjoy's Board of Director and a member of the founding family Javier Martinez welcomed the new agreement in August saying. "We believe that Advent will enable us to build upon our momentum and achieve our growth goals over the long term to perpetuate my father's legacy." In January, it was announced that Advent had purchased 32 per cent of Enjoy for approximately US$120m.
Related Stories