By
Phil
- 20 January 2017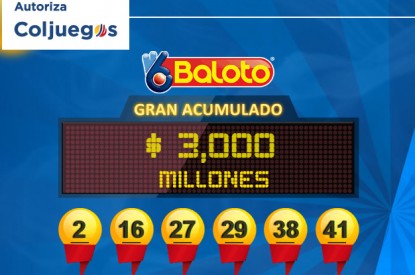 International Game Technology has signed a new five-year private operator contract to run the draw-based game "Baloto" for Coljuegos EICE.
The private operator contract was awarded as part of a public procurement process.
"With this new contract, Coljuegos will be able to increase the amount of revenue transferred to the Colombia health sector," said Juan B. Perez, Coljuegos President.
"This new contract, and IGT's proven record of successfully operating Baloto in Colombia during the past 16 years, demonstrates the Company's expertise in privately managing all aspects of lottery operations for governments," said Declan Harkin, IGT Senior Vice President and Chief Operating Officer, International. "With this contract, IGT reaffirms its commitment to ensuring Coljuegos generates funds for good causes, and maintaining a strong presence in the Latin America market."
Under this new contract, IGT will continue operating the ONLINE LOTO-BALOTO game and provide full management services, including the central system, terminals, communications, data center operations, product, marketing, sales, and field services. The concession will begin in April 2017.
IGT, as legacy GTECH, was initially awarded a 10-year concession contract to bring the Baloto game to Colombian lottery players in December 1999. The first Baloto draw was held just over a year later in January 2001, and the game was an instant success.
Since 2001, IGT, previously as legacy GTECH, has generated 34,000 direct and indirect jobs and has transferred more than 1 billion Colombian pesos to Coljuegos for Colombia's health sector. It has sold over 3.8 billion Colombian pesos in tickets and delivered approximately 1.9 billion Colombian pesos in prizes to more than 20 million winners.
In addition to the sale of Baloto, IGT's point-of-sale terminals will continue to offer a full complement of transaction-processing services (through its brand VIA™) that include cellular phone top-ups, bill payments, and money transfers.
Related Stories