By
Lewis
- 14 September 2020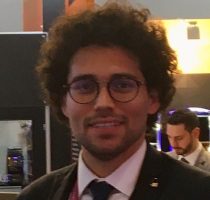 Alberici SpA is innovating upon its traditional range of amusement and gaming products to provide solutions to the challenges operators face making their locations safe for customers and staff. Alberici's Raul Pellela discusses the current offer and the impact Covid has made on the business.
Could you tell us more about Alberici's range of products that have been designed specifically in response to covid-19?
The health emergency that has hit us so hard has affected not only our health and the healthcare system as a whole but, due to the peculiarity of the restrictive measures we suffered for the first time, has had a very strong impact on the everyday life of each of us.
Alberici S.p.A. joins all those entities that, setting health as a priority, want to focus on the future, on a conscious restart and on the need to be resilient to the scenarios that await us. With this in mind, we have applied ourknow-how and used our resources to design and reassess some products.
Firstly, we have our TCA – Thermo Control Access – a new safety system to provide our partners with a smart tool to get in line with the new anti-contagion measures. TCA allows the detection of body temperature without having to resort to thermometers and manual measurements.
Customers, employees, and suppliers can measure their temperature independently without the presence of a staff member who must check every access with a thermometer in hand. TCA will carry out the measurement and signal any exceeding of the permitted temperature by means of a special visual signal: the intuitive RGB led illuminated topper will light up green or red. The permitted temperature can be freely set by the operator, as these are based on governmental dispositions that may be subject to change.
SANITIX24 is a multifunction small size dispenser suitable for the sale of any type of sanitising product. The internal space hosts eight distribution racks and allows to store up to 160 products in a minimum overall volume. Installed on the wall or on a free- standing support, SANITIX24 also helps to reduce queues and social distancing.
Alongside these two products, the range includes disinfecting wipes, filtering masks and sanitising gel.
When did thoughts turn towards the production of health solutions? For example, what was the turnaround time of the multi-functional dispenser unit from idea to factory floor?
In the first weeks of the pandemic we tried to find a way to reinvent ourselves and join the fight against the spread of Covid-19. There was a great team ethic amongst our sales, marketing, and R&D departments to identify outstanding points of this goal and in one month, Alberici has developed its brand-new solutions for businesses safety.
Furthermore, we have also focused on our Pay Station and Smart Cash, Alberici's automatic payment systems that are already on the market. In these hard months we have continued to work and help get life back to normal. As a trusted partner for over 70 years in the gaming industry, we understand businesses need fast and reliable access to quality products to get through these unprecedented times.
With this in mind, we have applied our know- how and used our resources to design a specific range of products targeted to simplify and facilitate the management of new health security rules and social distancing procedures. Our goal is to help businesses reopen and restart safely and in compliance with government provisions.
The health emergency will leave a lasting impact on the habits of customers in casinos and slot halls. How has Alberici adapted its approach to the design of its payment solutions?
Our recipe is constant research and relationships. At Alberici we do not sell products, we build relationships. We are not product oriented but customer oriented. Constant dialogue with our partners, and therefore with the target markets, allows us to be updated on market trends and needs. This enables us to stay on top of the pace of change and adapt to different situations, in this case concentrating on government provisions to start again safely.
How do you ensure products are focused on the future whilst setting health as a priority? How do you ensure new products are resilient to the unknown scenarios that await?
When we talk about our range of products to combat covid, it must be made clear that they are not medical devices but protective instruments to combat the pandemic and help businesses start again. More than 90 per cent of our products are designed and developed internally. This allows us to control the entire production process, providing a greater guarantee and certainty for our partners.
Furthermore, Alberici involves customers in this simple but important issue, through formal and informal meetings at headquarters to enhance the entire customer experience. Alberici SpA operates by an internal quality system whose procedures, rules and checks comply with the principles of ISO 9001:2015 Regulations, all of which aims at the staff's performance excellence.
Fulfilling and outmatching customer and partner expectations is the end-purpose of this everyday practice.
How has the present situation affected the demands of operators? Have you experienced a surge in interest for certain product types?
Of course! Given the economic situation, we have experienced a lot of interest for these products including requests, not only through traditional sales channels but also through socials and the website.
The coronavirus has heightened concerns about the hygienic consequences of cash handling. Where do you stand on the cashless debate? Has the pandemic expedited the transition towards a cashless society or are these assertions excessive?
It has certainly given an important boost to the market trend of limiting the use of cash, but we must also contextualise because this is not the situation in all countries – not every market has the technological and economic resources. In some countries it may have given a strong push to this transition, whilst in others it may have increased awareness of the trend.
For example, people are more conscious of passing banknotes from person to person. It is very important for customers and staff to feel safe. For 70 years Alberici has been a trusted partner with a strong network and during these years has developed its know-how in cash handling and can play an important role in this market evolution.
What emphasis does Alberici place on the operational capacity for its payment systems to facilitate multiple transaction types?
The operational capacity of our systems in a few words must be safe, reliable, performing, innovative, precise, and intuitive. These characteristics that are the result of our business model: we have always been able to follow the different trends and demands of the market through constant research and our customer- oriented business model.
Raul Pelella is marketing and communication manager for Alberici SpA. Having graduated from BBS – Bologna Business School in sales & marketing, he is experienced in B2B and customer- oriented markets. His ultimate goal as a marketing manager is raising brand awareness to guarantee the best customer experience.