By
Phil
- 15 November 2021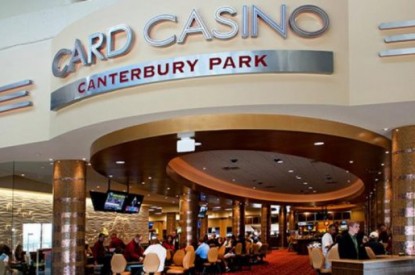 Canterbury Park, in Shakopee, Minnesota, generated record financial performance in the third quarter of 2021 with revenue growing 61 per cent year over year to a record $21.3m, while adjusted EBITDA grew 327 per cent to $5.2m.
Net revenues for the three months ended September 30, 2021 increased 60.5 per cent to a record $21.3m, compared to $13.3m for the same period in 2020. The year-over-year increase in net revenues reflects higher revenue generated across the company's operations as compared to the third quarter 2020. This was driven by a full quarter of more normalized operations in the third quarter 2021 as compared to the prior year, which contained limited operations and capacity restraints.
Financial results for the nine months ended September 30, 2021 include the impact of the state-mandated closure of Canterbury Park which ended January 10, 2021 and capacity restrictions from January 11, 2021 to May 28, 2021, subsequent to which Canterbury Park operated without mandated capacity restrictions. Financial results for the three and nine months ended September 30, 2020 reflect the impact of the onset of the COVID-19 pandemic and closure of the Card Casino, simulcast, and special events operations at Canterbury Park from March 16, 2020 to June 9, 2020, after which the Company reopened in a limited capacity.
"Canterbury Park's operating momentum since our reopening continued as we generated record financial performance in the third quarter of 2021," said Randy Sampson, President and Chief Executive Officer of Canterbury. "Operating without pandemic restrictions for a full quarter allowed us to generate our best-ever Card Casino revenue performance, with July and August reporting two of our three all-time record months for table games revenues. We benefited from improving visitation and strong spend per visit in the Card Casino throughout the quarter as we yielded our poker and table games at high levels and continued to generate more table games revenue from our higher value players due to our focused marketing efforts. Our racing and hospitality operations also benefited from more normalized conditions as we expanded our event calendar, ultimately leading to increased attendance at Canterbury Park.
"The 2021 live race meet, encompassing 65 days, generated record total handle and purses of $90.8m and $15.5m, respectively. Furthermore, we saw daily out-of-state handle grow roughly four per cent over last year's record and by nearly 179 per cent compared to 2019. Our decision to schedule racing on Sundays instead of Mondays as we did in 2020 contributed to significant attendance growth. As race fans returned to Canterbury Park and wagered 87% more on-track than in 2020, we were encouraged to see out-of-state wagering handle remain at elevated levels. We also benefited in the quarter from the return of the Twin Cities Summer Jam, the addition of a seven-show concert series, and the return of our highly attended junk bonanza antique show.
"Importantly, while revenue levels returned to pre-pandemic levels during the 2021 third quarter, our ongoing efforts to manage labor and expenses continue to deliver higher margins and cash flow. Adjusted EBITDA as a percentage of total revenue was 24%, an increase from 22% in the 2021 second quarter, setting an all-time record for the second consecutive quarter. While labor shortages are likely to continue as longer-term challenges, including upward pressure on wage and benefit costs, we believe our active management of operating expenses and our ongoing work to implement efficiencies throughout the business will allow us to maintain margins at attractive levels going forward.
"Progress on the development of Canterbury Commons™ continued in the 2021 third quarter. Our many visitors that come to play at Canterbury Park are seeing a growing number of residential and commercial tenants who call Canterbury Commons home or come to work here each day. As the impact of the pandemic subsides, we are also seeing increased interest in the development from potential entertainment, hospitality, and retail partners who we believe will serve as additional anchors and drivers of traffic to our property. Canterbury Commons is on its way to becoming a pre-eminent residential, business, and entertainment center for Shakopee and the surrounding area, and we believe we are in the early stages of creating an attractive, pedestrian-friendly community that will also create long-term Card Casino, racing, and event growth opportunities.
"With our continued operating momentum, Canterbury remains well positioned to pursue strategic transactions where we can leverage our financial flexibility and operating expertise. Our evaluation of these opportunities is ongoing and we are excited by the potential they hold to further transform our business. As we continue unlocking Canterbury Commons' value through land sales and development, we are creating new and significant long-term value for our shareholders. Our team has helped us successfully weather the storm of the COVID-19 pandemic and Canterbury Park has emerged a stronger company with an extremely bright future."