By
Phil
- 17 February 2014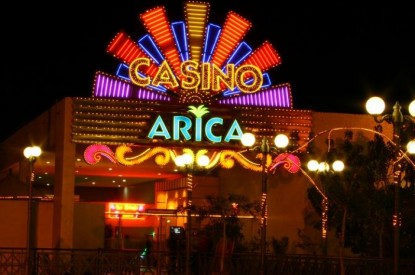 Spanish gaming group EGASA has applied to Chile's gaming body the Superintendence of Casinos (SCJ) for a licence to operate a large scale slot machine parlour in a newly built residential area in the city of Arica.
The port city of Arica has a population of just under 200,000 people and is located in the Arica Province of northern Chile's Arica and Parinacota Region. There is currently only one another casino in the region: a municipal casino which has 345 slot machines and 12 gaming tables.
In Chile casinos are either privately owned and run or are entirely owned and run by the municipality where they are located. There are 18 privately run casinos and seven municipal casinos located nationwide. There are no limits on the number of gaming licences in Arica only that the operator must meet with a number of strict requisites in order to be granted a licence.
EGASA has casinos distributed across Europe and Latin America and has already been granted a licence to operate a casino in the city of Copiapó by the SJC. Located in the northern region of Atacama the group's Gran Casino de Copiapó is part of its integrated entertainment resort Antay Casino & Hotel. The casino houses 3 table games, 179 bingo seats and 385 slot machines. If the new slot parlour gets the green light it will be the first to operate under the group's new trademark in Chile: Luckia.
The company believes that authorisation for the project could be granted this year to begin construction at the beginning of 2015 with the first phase of the project set to be open in early 2016. The new casino will be aimed at not only attracting local residents but also residents from southern Peru and Bolivia as well as from other
nearby provinces in Chile such as Antofagasta and Calama. The project will be large scale and stand at 2,900 square meters and come with a 129 hotel rooms. With total investment standing at around US$50m it will, according to development manager Peter Muffeler: "meet with the highest and most modern standards in Chile and South America."