By
William
- 12 July 2022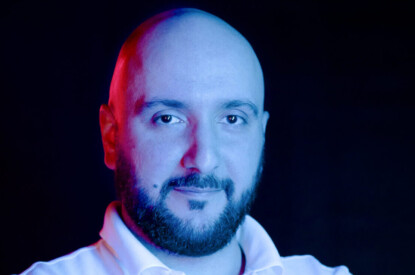 Earlier this year, Galaxsys collaborated with Fashion TV Gaming Group to launch a new title, CASH SHOW. Following a pre-launch event at ICE London in April, the game went live in June.
Galaxsys' CEO, Hayk Sargsyan, explains how CASH SHOW has been designed to connect fashion with gaming and how the developer seeks to position its games in a space between sports betting and casino.
Could you tell us more about CASH SHOW?
The game sees players place bets before the game starts and then wait until the model begins to walk on the stage. When the model starts walking on the stage, the odds will start to grow until she stops walking, which can be at any moment.
The Auto Cash out feature allows players to predefine the odds they want to cash out, enabling them to control the risk they want to take with each bet.
Auto-exit gives enhanced control of the game whereby even if the internet connection drops, the auto- exit function will work as set by players.
Auto Bet enables players to configure the bet settings so that the system plays instead of them. Free Bet provides operators with an option to award bonuses to the players, taking into account the terms set by the operator. Finally, the game also facilitates the placing of two bets in the same round.
What did each contribute to the production of CASH SHOW?
CASH SHOW is a result of successful teamwork and the correct division of work. Everything that is connected to the fashion industry was covered by the Fashion TV Gaming Group, whereas our team has covered the concept and implementation on the highest level.
Are further collaborations currently in the pipeline?
We have already started working on another game in cooperation with Fashion TV Gaming Group and hope to have even more successful games in the future.
I cannot tell you yet about the details of the game, but I can assure you it will be a highly attractive game with next-level graphics.
Away from CASH SHOW, how is Galaxsys' games portfolio comprised?
Currently, we have nine fast games and five skill games in our portfolio. The team is focused on continually improving both the range and variety of our in-house developed games, to deliver a stream of fresh, entertaining, and engaging content to our partners and their customers.
What is the appeal of fast games compared to other online gaming verticals on the market?
We position our games between sports betting and casinos. The main advantage of our fast games is that the games are quick-to-play and quick-to-win, which also results in having a higher engagement rate.
We take a significant amount of time to do research on UI/UX design and functionality, keeping in mind the behavioural features of people enjoying fast winnings. As a result, games are easy to understand and don't have complicated features.
What is the average shelf life for a fast game?
Games have lifespan differences, and that's normal. But as long as we keep on making our games meet and exceed the player's expectations, the average shelf life of such games will continually increase.
New KPIs are being constantly set as we test new features and receive feedback from our partners.
How do you tailor fast games to individual markets?
Even though we generally try to come up with global solutions with fast games, we make all necessary adaptations for making them easier to integrate.
Meanwhile, we translate the games into any language and integrate the currency of that specific country in a short period of time.
Moreover, we certify and make the corresponding licences for the games in a particular market until the partner is integrated.
How does the design process of fast games differ from other verticals? Are they designed with acquisition and retention in mind more than revenue and profit?
To play our fast games, one does not need to have any specific skill, thus the engagement and visual appearance of the game becomes the key factor.
When you focus on making a game based on user-centric decisions, a high engagement rate is guaranteed.
What comprises a modern, successful skill game?
Before getting to the design implementations, we take into account the characteristics of people who love playing skill games. Mainly, we distinguish two types of players; professionals and recreational.
After making the distinction, our goal is to make the games in a way that will satisfy both categories, by combining both functionality and UI/UX-friendly, engaging design.
We also make sure to deliver such products that will ensure performance stability, so that no issues happen due to technical reasons and the users get the most out of their performance.
What is the demographic for skill games?
To play a skill game, one should have that specific skill or, at least, a desire to learn to play it and it doesn't matter how old is he/she.
Online skill games are more popular mostly among men all over the world, but mainly in countries where traditional board/card games are popular.
Worldwide, the number of female skill games players is slowly increasing. We try to support that tendency in some decision-making stages of game development, as well.
Where are skill games popular? Is it a case of targeting the vertical to certain markets?
While coming up with skill games we take into account the demographics and cultural peculiarities. Generally, the countries that have an ancient history and play board games as a part of daily activities are the target markets for such games.
Are there distinct player behaviour differences between players of fast games and skill games?
Definitely, there are. Those who enjoy playing skill games prefer to master some of their skills and compete with other people.
The people who prefer fast games, enjoy having the feeling of heart-pumping and are in favour of fast winnings. Having this in mind, we take different approaches while developing our games.
Can you shed any light on your development portfolio for the rest of the year – what kind of skill and fast games does Galaxsys have in store? Will new verticals be introduced?
Our first year has already been pretty busy; new games, collaborations, expos, etc. In the meantime, we keep on working and further improving our games.
By the end of the year, we will have new updates and brand-new games in both fast and skill games. I would advise everyone to follow us on social media to not miss any exciting news from the team.