By
Lewis
- 25 August 2022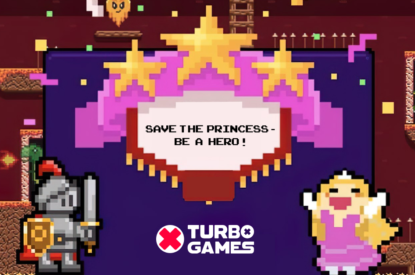 Inspired by retro games the Turbo Games team has created a new game rooted in throwback design aesthetics. The games has seven stages for the player to traverse in order to Save the Princess. Goblins, dragons, vampires and stand between the player and their goal, with death another protagonist able to immediately end the game.
Protective equipment is a must, with armour, an extinguisher and garlic helping to protect the player from everything besides death. However, the less protection the player takes at the beginning of the game – the larger the potential prize. Nothing ventured, nothing gained.
The game environment changes with each stage creating a lengthy challenge that's always fresh. Such a heroic adventure deserves an accompanying soundtrack and Save the Princess' includes an atmosphere soundscape to match the onscreen action.
Slava Zhuk, Advisor at Turbo Games, says: "We are excited about the release of Save the Princess because it differs much from all the previous games. We have been learning a lot from the time of Turbo Games` launch and now we put these insights into practice, bringing astonishing new experiences to our players all around the globe."