By
Lewis
- 13 January 2021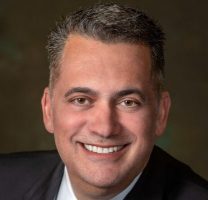 Christopher Justice, President of Global Payments Gaming Solutions, and Member of the Board of Directors at The American Gaming Association, speaks to G3 about the complex field of payments and gaming regulations. Chris begins by explaining what VIP Mobility is, and why it offers casino operators an opportunity to reduce costs while improving the player experience.
VIP Mobility enables guests to create digital TITO tickets on their mobile device by scanning an existing TITO ticket or using their VIP Preferred e-check account to fund their cashless gaming activity. Guests then pair their mobile device to any slot or table game by scanning a QR code and instantly transfer funds from their mobile device to the game. They can reload from their phone and retrieve funds once they are finished playing. The entire experience is seamless from funding through cash-out.
VIP Mobility provides additional layers of consumer protection while fitting within existing gaming regulations. Player tracking is automated, providing for improved identity and age verification. AML controls are tighter, creating numerous additional checks and balances to mitigate the potential for fraudulent behaviour. And, responsible gaming measures are enhanced, including configurable spending limits, "pre-set cooling" off periods, self-exclusion and more.
What was the inspiration behind the product?
Consumer research continually shows that the increasing amount of time individuals are spending on their phones is resulting in an increased desire for speed, convenience, efficiency, and on demand data. These factors were utmost in our thoughts when we began considering how we modernise payments in the gaming space in the most efficient way.
When we began exploring the topic, we were presented with a lot of obstacles, including, but not limited, to gaming and payment rules and regulations, and IT infrastructure. However, despite the complexity involved, one thing holds true. We are dealing with the same consumer that is using their phone every day. What separates good applications from bad is ease of use and intuitive workflows to deliver the results consumers expect.
The solution differentiates from others in the market as it fits within the existing rules and regulations for gaming and payments, as well as being an easy to use, intuitive application one would expect from any other app downloaded onto your phone. More than 60 per cent of users continue using the VIP Mobility app trip after trip. This is very uncommon relative to many of the other applications rolled out into the gaming space.
The question was about how we process and move money electronically to eliminate cash, manual processes and face to face interaction. Our approach leverages and extends the trusted systems already in place, namely the TITO voucher system, as well as existing regulated control points to drive access. The phone's handset effectively becomes nothing more than a digital voucher being delivered to a gaming device in a similar way that it is delivered now. The bill validator consumes a digital ticket number, presents this to the ticketing service for validation which says the digit number is correct, subsequently funding the game.
There are existing processes to handle disputes, account, reconcile, measure revenue and pay taxes. As VIP Mobility leverages the TITO voucher system, it is unlike every other cashless system, all of which are trying to leverage legacy account platforms. These are difficult to use, require extensive labour to sign up a customer and add more steps to what should be an easy process. Those solution types are typically dead on arrival.
A mobile cashless environment is not just a brick and mortar activity – it mimics interactive gaming. All of the financial institutions who do not support interactive gaming also do not support mobile cashless, so the ability to fund with a credit and debit card would generate huge amounts of declines. Therefore, our approach is about providing access to all payment methods, not just credit and debit cards. This improves the user experience by increasing the certainty of transaction success and funding.
When going through the process of getting an app download and setting up to play, this currently includes getting turned away 50 per cent of the time by a financial institution when attempting to transact with a debit or credit card. When this happens, if no other funding options are available, it is more likely one will just go back to the old way of doing things.
How complex is transitioning between the regulations for payments and gaming?
Very. As you would expect, vendors and operators in gaming are working tirelessly to address the regulatory challenges occurring within the industry. As such, most cashless providers have returned to using wagering accounts that have been around for 20 years. The part many fail to recognise is when you start exploiting or leveraging this old system, you are also subject to a number of unique requirements.
A lot of organisations have opted to leverage the wagering account not fully understanding the additional regulatory requirements they have to adhere to. This creates a significant set of challenges and is why we felt that leveraging the TITO system is a better way to go. The system and infrastructure are already operational for the casino, requiring them to do nothing additional to maintain compliance.
Another issue from a rules and regulations perspective is the fact Apple Pay and Google Wallet are driven by the rules of their App stores. Gaming is a prohibited use case by both of these companies, yet some vendors claim to have a solution to enable Apple Pay. This is not possible in today's environment. Every prohibited use case and improper coding of a transaction violates payment rules and regulations, resulting in a compliance charge back.
If and when found out of compliance on any of these processes, the operator loses the charge back and the money that's been transmitted, as well as any of the fees already paid. The ramifications of not doing payments well in this environment are significant.
The last aspect often forgotten concerns data and consumer security. Payments organisations, networks, and financial institutions have put numerous processes and procedures in place in order to protect each one of us in our identities and payment account information. The path many are currently going down is starting to strip away all of these protections put in place over the years and to enable more streamlined access to consumers financial accounts. This creates significant opportunities for fraud to be conducted via the gaming environment.
For example, your debit card has a chip on it. In order to access it, you use a pin number that you have selected. This pin number is encrypted within the chip itself and across any device you use to make sure that information cannot be intercepted. The chip authenticates the card which authenticates you as a consumer. Subsequently, anywhere you enter the pin is protected through encryption, as well as the little hand barrier you create so somebody can't look over your shoulder.
Consider this in the context of companies who want to transition access to your financial account to a loyalty card. This protection then becomes a simple magstripe card that can be duplicated anywhere. With that, I have the ability to access your financial accounts or insert the mag stripe card into a slot machine with no encryption.
There are a number of competitors within the cashless payments space. How do you stay ahead of everybody else?
Our CTO is on the board of the PCI Security Standards Council. We have team members involved in NACHA, MIST and other compliance organisations around the world. As a principle member of Visa and Mastercard, we receive regular briefings and updates on new attack vectors and trends in the payment's world.
This information is shared within our IT organisation, product development and innovation teams so they can anticipate upcoming market challenges. All of Global Payments' divisions are organised around vertically specific technologies. In the gaming world, we only deal with regulated gaming entities. We understand the rules and the regulations needed for gaming and payments through these rich data sources.
Is Global Payments Gaming Solutions focused across the cage, on the floor, and online or are they all grouped together?
We focus on all areas of gaming. Our team of product managers and innovation teams are each associated with a specific area of the casino and utilise their expertise to specialise on that specific space.
E-commerce is a very important topic at the moment. Our teams are looking into how to deploy this technology in the areas of interactive and mobile sports betting, not only within the context of gaming, but e-commerce as a whole. Furthermore, we are working to proactively identify the methods of fraudulent activities being perpetrated across the world, and how they are being carried out. With this knowledge, we are able to enhance the processes and systems we operate to mitigate the risk within our industry.
Has there been an upsurge in cashless solutions adopted by operators post-Covid-19?
The need for social distancing has increased operator interest in cashless gaming options. We have had virtual presentations through our client experience centre with every major operator in the country. Most of them are in their third or fourth iteration and are looking at further implementation.
Primarily, it boils down to operators having to provide a comfort level to consumers to ensure a safe and healthy environment, whether its temperature checks, mask policies, sanitation processes or plexiglass.
The guest wants the ability to sit and use their mobile device and at a slot machine. Guests should be able to move money into the casino to fund the game, play to their heart's content, and put the money back into their financial account at the end of your gaming experience without ever having to get up. It is the perfect complement for a Covid-19 strategy which offers players maximum comfort.
What is the company's primary focus in 2021?
We work to ensure each gaming guest, regardless if via the casino, sportsbook, iGaming, or lotto, is able to fund their gaming experience and have an enjoyable experience. Our team is made up of consumers who also continuously operate in multiple channels. We understand the need. We look forward to equipping the operators to deploy integrated solutions that work seamlessly together.
Do you have an interest in cryptocurrency or blockchain?
We do. We have a crypto exchange and access to Alipay and WeChat, which provide services to our customers in Asia who favour this way of payment. Additionally, there are a number of payment technologies we are deploying in 2021 that will support access to additional alternative payments in a compliant manner.
What is VIP Preferred?
VIP Preferred is a fast and easy way to access your cash at more than 500 gaming establishments. Once enrolled, simply present your ID to a casino cashier and obtain your cash. It's quick, easy and hassle-free. VIP Preferred also offers you the convenience of cashing checks electronically, also known as e-checks, without having to bring your chequebook.
VIP Preferred has over three million gamblers registered across our platform, whether by way of brick and mortar casinos, interactive gaming platform, sports betting, lottery or daily fantasy sports. When a customer signs up with VIP Preferred, their 'membership' enables them to play anywhere and everywhere that VIP Preferred is accepted.
Global Payments conducts an affordability check to provide limits to the player, and this limit can be used across all platforms. For example, if I get $50,000 as my limit then I can stop by a brick and mortar casino and play online seamlessly using my VIP Preferred account. All the transactions associated with my play are approved.
What is the rationale behind the research collaboration with the University of Nevada Las Vegas? What are your expectations?
There are many misconceptions behind cashless and responsible gaming policies that tend to stem more from fear, or ignorance of the topic, rather than fact. In working with the University of Nevada Las Vegas Research Collaborative, we are able to help the industry understand the challenges associated with problem gaming and how we can work to solve these challenges utilising fact-based research.
The difficulties we have faced working on payments modernisation strategies with the AGA and responsible gaming policies are based more on fear-based concerns than fact. There are those in the industry who tend to paint everyone within it with a broad brush that may not specifically take into account the needs of the individual who needs help. There are some who will go to great lengths to engage in destructive behaviour. For others, adding a couple of additional 'speed bumps' or alerts to a process will see them play more responsibly.
The collaboration is about truly understanding what's happening with the public and utilising fact-based research to systematically address issues to help those who are struggling. We should be able to offer the tools to better control your own destiny.
We want to help the industry proactively address problem gaming, while enable those who do game responsible the ability to do with without added barriers. With better problem gaming education, the industry can address this challenge and enable guests to continue gaming responsibly.
Josh Swissman, Founding Partner of The Strategy Organization:
"The funding part of VIP mobility is a big differentiator for Global Payments Gaming Solutions as it is built on their decades old, hardened, proven and widely utilised cheque cashing products.
The company is literally 100 times bigger than its competitors in terms of market capitalisation and that's hugely important regarding integrity, surety, and respect in the broader payment's community. Global Payments has an ability to affect change others cannot.
From an operator's standpoint, the fact Global Payments work within the existing procedures and protocols makes it a whole lot easier to implement because they go through the bill validator as opposed to leveraging gaming wallet technology. It is easy to implement and manage. Everything else could be awesome but if this thing is difficult to implement and complicates the processes for people that have to do audits every day, the product is dead on arrival.
VIP Mobility is a seamless integration into these existing procedures, no matter what they are, because of how they integrate into the bill validator. Global Payments has leapfrogged all of their competition in this regard and the app's easy to use UX and user interface further bolsters its performance.
The way Global Payments uses the product to facilitate customers and users goes a lot deeper than what I've ever seen. They have put together a robust communication strategy to increase adoption and ongoing utilisation. Everything from direct mail, email and social campaigns, to the facilitation and development of ambassadors on properties, gamification and other principles has increased adoption and retention.
This is not just something that gets rolled out easily and has a great set of testimonials from early adopters. There is ongoing success and volume being driven through the VIP Mobility app. Focusing on user psychology to stimulate ongoing transactions and utilisation is truly unique."