By
William
- 19 October 2023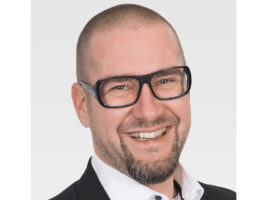 Thomas Schmalzer, VP Global Sales/VP Product Management at NOVOMATIC AG, details how the Novo Unity II system powers its NovoLive Studio, enabling the broadcast of live dealer table games 24/7, 365 days a year, to gaming machines in venues nationwide and beyond.
What unique assets do ETGs bring to the casino floor?
The popularity of ETG products with both operators and players remains extremely resilient with a continued success that is based on the clear distinctions that these products offer in comparison to traditional live games. One being the full automation of the game, which greatly reduces errors and avoids discussions at the table about bets placed.
Another being the fact that they help reduce personnel costs. The automated game play and especially the increased use of podiums and faster wheels also allow for a significantly increased game speed and more bets being placed compared to a traditional live table.
Another aspect for the operator that speaks for ETGs on the floor is an advantage in terms of floor space. Whereas smaller ETG setups may take up similar floor space to a live table set-up, with the increasing number of terminals, operators can accommodate significantly more players plus present a more varied game offer than any amount of live table could within the same space limitations.
Specifically adding to the player convenience is the broad range of options and increased privacy that ETGs present to the guest compared to the more exposed betting situation on a live table. System developments allow for greater choice for the players, with a single ETG terminal able to offer a range of different games, optional side-bets, even simultaneous betting on different games at once, multiple denomination choices and a more relaxed experience for those who may otherwise feel rushed if sitting at the live table.
ETGs are expensive. What factors influence operators to upgrade? Are they typically seeking a better ROI? Do ETGs have a life span?
In terms of hardware, operators might go for new cabinets with bigger screen dimensions that create a bigger game impact and better player comfort. Or they might reconsider their floor layout and select a new ETG set-up that perfectly fits their new requirements, which could be either a circular island installation, complete with automated wheel and signage such as the latest-generation LOTUS ROULETTE Genius, or it could mean that they integrate a whole ETG arena on the casino floor, with a standalone wheel, any number of individual slant top terminals and perhaps a generous video wall.
Software upgrades are much less invasive for the gaming floor as a whole and therefore much more common. Operators generally seek to update their offer with the most popular games. Hence, new ETG content releases that hit a sweet spot with players are highly welcome and generously adopted. A recent example are the new Roulette jackpot games GOING FOR GOLD and Lucky Lady's Roulette that very quickly became a much-sought upgrade.
A solid, premium ETG product has a very long-life span that typically lasts at least until the end-of-life of the platform and beyond.
Why are there multiple configurations for every model? What role do these configurations have in spacing out casino floors of different shapes and sizes?
The multiple possible configurations are in fact catering to the various operator requirements in terms of floor spacing and set-up preferences. Circular islands like the LOTUS ROULETTE are quite convenient to integrate and even allow the operator to connect additional video slot positions to the same Roulette offer. One step further, WAN configurations enable operators to connect player positions to remote Roulette wheels, or other table games for that matter, in entirely different venues.
And even more revolutionary approach is the brand new NovoLive Studio: utilising NOVOMATIC's wide-area-network infrastructure, the market leading Novo Unity II system powers the NovoLive Studio, enabling the broadcast of live dealer table games 24/7, 364 days a year, to gaming machines in venues nationwide and beyond.
ETGs are one of the more complex pieces of gaming equipment on the casino floor. How important is servicing and maintaining these ETGs? Do you handle this in-house or work with a distribution network and external partners?
NOVOMATIC ETGs are typically very low maintenance gaming equipment. Relevant technical support and service is however provided by NOVOMATIC's international network infrastructure of subsidiaries and distribution and service partners, worldwide.
Are Blackjack, Roulette and Baccarat still the most popular titles or are game line-ups becoming more varied?
NOVOMATIC ETG content is traditionally broadly diversified with an offer ranging from Roulette (with 0 and 00 versions), Baccarat/Punto Banco, Black Jack and various kinds of Poker to Sic Bo and Bingo Games, as well as making a selection of video slots available on the player terminals.
Within the traditional ETG games, the NOVOMATIC content portfolio is further varied with three distinct game versions: the live table connected TouchBet game version, the fully automated Multi-game version and the fully animated Flying version which is an entirely virtual game presentation.
In terms of game play and game development, ETGs are a product range that continues to explore new offers. More recently, the Roulette portfolio has been enriched with novel jackpot side-bets such as GOING FOR GOLD and Lucky Lady's Roulette that have quickly gained great popularity and that lend themselves very naturally to the ETG format, with game flow greatly improved.
What would be a complex process for a croupier dealing with multiple players placing different bet variants to handle, becomes a fast, simple and clean progression that is easy for the player to comprehend, follow and enjoy on an ETG terminal.
Is it important to have a signature 'spin' on these classic game types or do players prefer a more traditional experience in a casino environment?
The one does not exclude the other. NOVOMATIC ETGs serve both, the traditionalist and the more experimental player with a varied choice of games in the selection menu. The Lucky Lady's Roulette is a prime example of a signature spin, if you like, captivating both operators and players with the familiar theme and presence of the iconic Lucky Lady character, which is synonymous with the NOVOMATIC game catalogue.
The addition of this new game for the NOVO LINE Novo Unity II range of products has everything that a player could want: spellbinding graphics, the familiarity of a traditional roulette game as well as the addition of bonus multipliers, enhancing the portfolio and strengthening even further the appeal of the foremost ETG system in the market.
With new iterations having hit the market annually for decades, what scope remains to improve and innovate upon ETGs? Where can improvements be made to the customer experience?
We keep working on innovation in all fields of gaming equipment and as such also on our ETG solutions. However, it would be premature to break the news about our next big move before launch, but I can reveal what I can now: it is looking really good.
But one thing that characterises our industry and all the successful big players in it, is its great creativity and innovative strength that proves again and again that we keep reinventing the game, creating ever new and exciting experiences for the player.
Where do you consider 'home markets' – areas where the company's ETG presence is strong – and where do you see potential for expansion?
Exceptionally strong ETG markets are traditionally the UK, but also France and Germany in Europe. Moreover, we are proud of large installations of high performing ETG setups also in a number of Asian markets.
ETGs are generally a very international product segment, partly due to regulators peculiarities, partly due to traditional player preferences and mostly, because electronic table games offer so many advantages for operators and players alike.