By
William
- 22 November 2022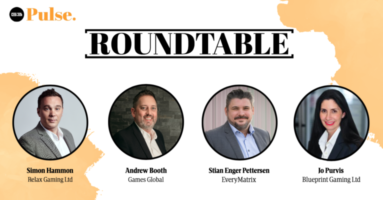 Driving the sustained popularity of jackpot slots is the thrill of potentially winning a life-changing sum of money.
G3 gathers taps into expertise from Games Global, Relax Gaming, EveryMatrix and Blueprint Gaming to discover what it takes to build jackpot slots that can withstand the test of time.
What are the differences between creating a jackpot slot and a standard online slot? What unique challenges can arise during the development process?
Andrew Booth, Chief Product Officer at Games Global: There are several elements to consider when developing progressive jackpot slots, not least that you're integrating the title itself with the overarching jackpots! One of the biggest considerations for me would be ensuring the playability and balance of the game.
The key here is making sure you've got your maths models aligned so that you guarantee maximum player enjoyment. More needs to go into ensuring the maths models are carefully balanced and that we're maximising the player experience, so they continue to play the game.
Simon Hammon, CEO at Relax Gaming: The main difference between the development processes varies according to the size of the jackpot and the studio's technological set-up. With infrastructure like Apex, we were able to produce Dream Drop as an independent entity that can be seamlessly integrated into almost any game without compromising on features or mechanics.
Typically, however, jackpots are smaller, and games are entirely built around the functionality, resulting in less engaging background content.
In terms of challenges, the biggest hurdle we faced was creating a user interface that had its own high-profile identity but was neutral enough to suit a vast set of environments. Our plans were always to keep the mechanic space fresh by continuously launching diverse new games, so it was imperative that we avoided thematic clashes along the way.
The technical side on the other hand was relatively straightforward, having developed several jackpot solutions for providers over the years, we had the experience to follow tried-and-tested routes which allowed us more room for creative planning and out-of-the-box thinking.
Stian Enger Pettersen, CEO of CasinoEngine at EveryMatrix: The main development challenge lies in making such a slot attractive for players without the jackpot, while at the same time ensuring the prize grows enough to make it a major feature in of itself.
A jackpot begins with whatever it is seeded with; seed it too much and it becomes a major adverse influence on the math model, reducing the regularity of other features with too much RTP sent into the prize pool.
This results in a slot that is unattractive to players. Seed it too little and the jackpot grows too slowly, which is also off-putting to many players. We see many games on the market with jackpots constantly hovering at around the €25k mark, because their unattractive models mean they are avoided by players.
There is a fine balancing act at play when it comes to seeding jackpots and the resultant impact this has on RTP. It means the development process for a jackpot slot is a lot more complex than for a regular slot.
There is also the regulatory aspect, but that is usually less about the jackpot itself and more the system around it. In which case, our JackpotEngine product has been developed to be fully compliant as both a game jackpot and an overall jackpot as an additional layer on top, driven by bets placed.
Jo Purvis, Director of Key Accounts and Marketing UK at Blueprint Gaming: There are many aspects of developing a Jackpot slot that are largely the same as any other game – you need to ensure that the theme, features, and mechanics are as engaging as they can possibly be. You can't simply take a vanilla game with average gameplay, attach a jackpot to it and expect it to be a success.
At Blueprint, we're fortunate in the respect that we have a rich heritage in developing successful, non-jackpot games that players regularly return to, while also being able to leverage our industry-leading Jackpot King progressive system either to create bespoke titles or to integrate into new versions of our proven games.
The same standards of crafting an entertaining base game transcends genres, as, without that, a Jackpot game doesn't enjoy the participation and revenue required to build cash pots.
Ensuring that flow of play that allows the sufficient stake percentage to build an attractive big prize through feature-rich games is something we've been able to hone and, as such, players can enjoy the thrill as the payout limits approach.
Jackpot slots spend significantly more time at the top of casino lobbies, prolonging the relevance of many older slots. Has this hindered innovation within the jackpot space?
Jo: Certainly not as far as our output is concerned. The benefit of integrating a jackpot system into a game is that it presents itself to the wide-ranging demographic that enjoys them. Many games fall into the jackpot category, which drives the likelihood that operators will leverage a landing page widget, promoting the jackpot and the associated slots. New titles that feature that jackpot enjoy top billing within the widget, resulting in the front-page exposure that is so important to studios.
What it also does is allow us to breathe new life into a title which may have fallen off the radar of the mainstream player. We've achieved this with some of our classic games including Fishin' Frenzy and King Kong Cash, adding them to our Jackpot King series. They were both successful titles originally and elevating them to include the pots have made them an option for those who prefer to play only jackpot games.
With our Jackpot King series being so universally recognised and earning its reputation, we've evolved it, and maintained its relevance with player trends and operator demands, from a single pot to 'must go by' pots. At the same time, we've retained the core factor that the main pot is unrestricted, unlimited and can reach any value and drop at any time.
Simon: The short answer is yes. The popularity of jackpots and the size of prize pools tend to rely on an element of earned trust, so it is natural that older brands with a loyal player base have retained top positions on lobbies. The knock-on effect of this is a sector that is harder to break into as a newcomer which ultimately affects the level of innovation in the market.
Further to this, the robust operating systems required to produce big ticket jackpot items do not make it any more appealing to younger suppliers. When creating sizeable jackpots that are reliant on global liquidity, the mode of production goes far beyond that of slot creation.
The process is heavy on licensing, accounting, software systems, and requires robust infrastructure all round. The development of a jackpot of this kind is much more about service than a pure product and this presents another significant hurdle to game producers globally.
Andrew: Absolutely not! We're always introducing new titles into our progressive jackpot network and innovating new ways of bringing our jackpots into existing games along with creating brand new titles for them specifically. We have some new types of games in the pipelines that we intend to introduce into our jackpot portfolio so that will be exciting to see.
It does remain to be said that a lot of our iconic progressive slots enjoy top positions in casino lobbies because they're fantastic games and players want to keep playing them. Testament to that is the original Mega Moolah game, which was the first title to award a Mega Moolah euro millionaire since Games Global took over the iconic network earlier this year.
Stian: Yes, the more nuanced response is that this is the case for certain slots – those that have huge jackpots – while there are also many jackpot slots that do not spend much time at the top end of casino lobbies. That isn't because they are drowned out by their bigger rivals. It's more down to the fact they are either not fun to play, or that the jackpot prize is not high enough for players to regard it as a once-in-a-lifetime, lottery-style opportunity.
Regulation has hindered innovation in this space, too, as it can be very restrictive. We hope that if JackpotEngine succeeds in the way we believe it will, we can provide scope for innovation. This system has the potential to create a jackpot prize that is extendable across any slot an operator requires, if they are prepared to adjust the RTP. An operator can then promote a particular provider or games featuring that jackpot.
Have studios avoided developing jackpot slots because the current space is flooded with classic jackpot games, some of which have been on the market for over 15 years?
Simon: Each type of jackpot whether local, global, or promotional has its own set of requirements and benefits that come into play when analysing its presence in the market. In the case of local and promotional jackpots, the industry has seen a lot of newcomers to the space, barriers remain manageable and both innovation and gamification are on the rise.
However, when it comes to global jackpots, this segment is on a different trajectory. Growing lists of regulations across European landscapes, reduced cross-border liquidity abilities and the lack of operator and ecosystem appetite for this content have affected build-direction strategies and the development of the sector. It's now up to mechanics like Dream Drop to shake up a somewhat stagnant vertical.
Andrew: Games Global are already innovating in this space. We see huge potential for the future of progressive jackpots, and we're excited to see where we can take this aspect of the business into the future.
Games Global works with over 37 studios, each of which supply content exclusively through Games Global. Many of these studios have been busy creating and crafting some of our newest Mega Moolah and WowPot titles.
In April, we released our first jurisdictionally ring-fenced progressive jackpot. Gold Factory Jackpots Maple Moolah was launched with a starting seed of CAD $1m exclusively for the Ontario regulated market. These additions and innovations are what we stand for at Games Global. You can expect to see plenty more being developed, with some interesting twists along the way to keep players thrilled and our games in those top spots!
Stian: I don't believe this is the case. Instead, development has been hindered in the main by the impact of regulatory challenges. It is very complex to certify a jackpot game and jurisdictions have varying rules concerning the maximum level of prize that can be won. Additionally, there are ancillary systems that must be developed to manage and report jackpots for regulatory purposes, and this has affected innovation in this space.
Jo: Possibly. But you could argue that the whole slots sector is flooded with similar games and if that were a true barrier to entry then we wouldn't be seeing so many start-up studios entering the fray. Similar challenges exist with non-jackpot slots so if studios are resistant to attempt breaking through, we'd have no innovation at all! There's a host of innovative developers out there and it's an ecosystem that encourages competition and the high standards that come with that.
For us, we're on the inside looking out, as it were, having already ploughed our furrow and enjoyed success so our task is to maintain the quality and constantly evolve our offering, ensure we remain at the fore of the sector.
With several new jackpots debuting in the last twelve months, will jackpot prizes be driven ever higher, or have they hit a ceiling?
Stian: I believe they will only be diluted to an even greater extent. The more jackpot games there are on the market, the more players will switch between them depending on what is on offer at any given moment. The days of games like Mega Moolah achieving enormous jackpot prize funds are increasingly numbered.
Prizes now tend to reach an average amount and stay at that level, unless there is a specific title that is fun to play, and which players relate to. This is where JackpotEngine comes in, as it is not game-dependent. You can have huge jackpots that have nothing to do with the game itself, which can be used by operators to direct players towards titles. This way you have a game that is fun to play, with a huge prize as an additional layer on top. It's the best of both worlds.
Andrew: The jackpot space is certainly competitive and yes, the more jackpots entering the market, in theory the more dilution we will see. We continue to focus on delivering what players want from jackpot games, they want to see the jackpots paying out regularly not just seeing their money fund and fund non-paying jackpots.
We've been investing a lot into our network as the appetite for these games continues to grow. Since acquiring our network, Games Global has doubled the starting seed of Mega Moolah to €2 million and will soon unveil some exciting new products to market – watch this space.
Jo: Smaller pots, accumulating and dropping more frequently, have grown in popularity in recent times and they certainly have their place in attracting players for the short-term. However, jackpot fans always have those life-changing prizes on their radar so they will remain relevant.
The anticipation garnered by jackpots in their millions is a powerful thing – much greater than a daily alternative that offers prizes in the thousands, so in that sense, they aren't comparable. You cannot compare the dreams of scooping a million-pound jackpot to the prize on offer through a daily giveaway, so there's always scope for them to become even larger over time.
Simon: I do not believe jackpot prizes will continue to soar, quite the contrary. In my opinion, the days where players will happily wait a year or two to potentially win are long gone. Today's players are more skeptical of exceptionally high jackpots and are more interested in the tangibility of winning rather than the size of the prize.
If a prize pool climbs too high, players will not feel it is achievable and are less likely to try their luck, whereas a lower amount with a more frequent fallout rate builds trust amongst a broad demographic.
This is likely to be a key player in Dream Drop's success so early on in its lifecycle. All Mega jackpots are life-changing sums of money with a hit frequency that surpasses any competing mechanic, this creates the authentic, exciting experiences that we believe our pool of players is looking for.
What differentiates your jackpot from others currently on the market?
Simon: When we set out to build Dream Drop our scope was to first address the numerous shortcomings that existed in the jackpot space, and then to bring our flare for differentiation to it. We knew that if we were to go for a production of this kind it had to deliver on areas that the current market couldn't satisfy. Through research and feedback from operator partners, we were able to recognise gaps in the product line, and the result is a mechanic that differentiates on several counts.
Dream Drop stands apart for offering engaging games beyond the jackpot functionality, providing big-ticket prizes, must-drop features and generating more frequent fallouts than anything else on the market. So far, we feel we have more than delivered on our promises.
Jo: Blueprint's Jackpot King was famously one of the first progressive systems launched in the online sector and continues to attract the interest of players across Europe, thanks to its track record of a wide selection of games available and reliable big win potential.
Earlier this year, Jackpot King paid out €8.1m to one lucky PokerStars Casino player who triggered the Wheel King feature whilst playing Deal or No Deal Megaways. That was a record prize for Jackpot King and was the subject of huge interest in the online community.
But we also know how to keep growing and nurturing Jackpot King, maintaining its appeal by introducing new titles to the system's games library. Our most recent debuts have seen the inclusion of Diamond Mine, the first licensed Megaways game released to the global market, and our branded title Top Cat Most Wanted. We're always monitoring which of our games can join the Jackpot King family, as well as pinpointing fresh ways we can update gameplay and overall appearance.
Andrew: The big difference with jackpots from Games Global is the amounts paid out and the frequency of those payouts. Mega Moolah pays out on average €8.1m every 48 days and WowPot pays out €8.2m every 121 days, no other online jackpot games manage to hit these levels on a consistent basis.
There's plenty of excitement in the progressive jackpot space, and we're delighted to have some of the most iconic and popular titles of the industry in the Games Global portfolio. Games Global stands for innovation and we are driven by our customers and the market. We look forward to bringing new jackpot innovation to our partners in the coming months.
Stian: JackpotEngine is a gamification solution that allows an operator to create their own jackpots across an entire gaming content portfolio, as opposed to being limited to a particular supplier, and for any player segment. It helps to boost player acquisition and creates an added incentive for players to stay loyal to a brand, increasing lifetime value. Players are engaged with in-game widgets displaying jackpot pools, which are updated in real-time, and the jackpot prizes can be configured in unlimited ways.
Operators have the control of being able to set jackpot hit probabilities to attract different player types, whether they prefer to aim for life- jackpot pools, or more frequent and modest jackpot drops. There's also the possibility of constructing multi-level jackpots that combine both of those traits, and operators have the choice of jackpots being paid by players, coming out of marketing budgets or any combination of the two. JackpotEngine adds excitement for all player types and hands control to operators.