By
Phil
- 15 November 2023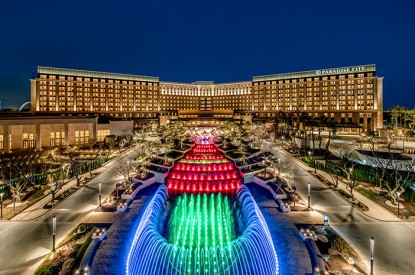 Paradise Co, South Korea's number one foreigner-only casino group, not only surpassed pre-pandemic revenues in its three months to September 30 2023, it also set new records in revenues, EBITDA and profit.
Its flagship Paradise Cityin Incheon, which it runs alongside Japan's Sega Sammy Holdings, also generated all time highs in EBITDA and profit due to an influx of Japanese VIP players. Paradise City generated gaming revenues of US$97.8m, an increase of 19 per cent quarter on quarter with revenues from Japanese VIPs reaching 149 per cent of pre-pandemic revenue. There is still more in the tank too with Chinese VIPs currently up to just 68 per cent of pre-pandemic levels.
Group revenues increased by 50.7 per cent year-on-year and 3.7 per cent quarter-on-quarter to US$217m. This was despite casino revenue falling by 13.8 per cent to US$88.1m. Hotel revenue increased by 7.6 per cent to US$23.5m with resort revenues increaseing by 21.3 per cent to US$101m. Operating profit spiked by 49 per cent to US$60.3m compared to last year and 4.1 per cent quarter-on-quarter. EBITDA increased by 24.9 per cent compared to last year, coming in at US$58.7m.
JP Morgan analysts DS Kim, Mufah Shi and Selina Li said: "GGR has fully recovered to pre-COVID levels, thanks to solid performance across segments. Japanese VIPs (45 per cent of total drop) and mass demand (20 per cent of drop) continued to climb to hit 125 per cent and 115 per cent of pre-COVID levels, respectively, and Chinese VIPs (15 per cent of drop) started to rebound (albeit from a low base) to reach 66 per cent recovery rate vs 42 per cent in 2Q."