By
Lewis
- 10 February 2021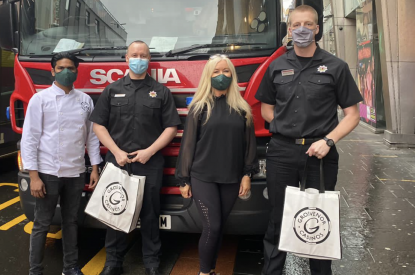 Since being forced into a third lockdown in January, British operator Grosvenor Casinos has doubled its charitable efforts and the support it offers communities in need across the UK, as well as raising money for its long-standing partner, Carers Trust.
A team of dedicated kitchen staff have helped five Grosvenor Casino venues transform into community kitchen hubs and deliver a total of 25,000 free meals.
Working alongside local charities and organisations, casinos including Blackpool, Bristol, Dundee, Glasgow Merchant City and Russell Square have risen to the challenge of the pandemic and committed to cooking freshly prepared meals five days a week for delivery.
Cooking a simple menu of hot tasty meals such as chicken and mushroom casserole and vegetable madras curry, the team package the food individually for delivery staff from each local charity to collect on a daily basis. As a thank you to brave key workers, the kitchen staff have also donated regularly to the NHS nurses at local hospitals and to the police, courts and fire brigades who have kept the country going.
58-year-old, Julie Lowe, the Commis Chef at Grosvenor Casino Blackpool was forced to step up to the plate after the head chef fell ill and has been single-handedly cooking up to 250 meals a day with support to package up meals from the rest of the team. She said: "Homelessness is a big issue in Blackpool so it's a very rewarding feeling being able to cook a good variety of meals and know that they are supporting people within our community to not go hungry.
"I've worked for Grosvenor Casino Blackpool for 10 years now and while it's been hard work organising and prepping all of the food each day, the team has risen to the challenge and I'm really proud of being able to help out at a time when our doors are closed due to the pandemic."
The team at Grosvenor Casino Birmingham Broad Street also picked up the Community Contribution Hero's Award at the Wonders of Westside Awards recently for its efforts feeding key workers including staff on the city's tram link.
While many of us have spent January binge watching box sets on the sofa, 113 team members from Grosvenor Casino venues across the country dusted off their trainers and braved the winter cold to walk, run and cycle 672 miles for charity. With the encouragement of former world heavyweight boxing champion and Grosvenor Casinos' sponsored poker player, David Haye, in their corner, the team took part in the Grosvenor to Grosvenor Charity Challenge to raise money for Carers Trust by covering the distance between Grosvenor's northernmost and southernmost venues in Aberdeen and Plymouth.
As well as raising more than £1,000 for charity, the team completed a whopping 4,907 miles in just a few weeks encouraging each other to stay active during lockdown.
58-year-old, Lynn Stewart, who lives in Cattedown and is F&B Team Leader at Grosvenor Casino Plymouth, said: "Grosvenor Casinos loves to support Carers Trust and has done for a while now. This is a fantastic way for us to continue providing that support and has also encouraged us to get some exercise in the process.
"On top of that, I feel like it has given us a real sense of togetherness, not just among the team here in Plymouth but all the clubs taking part in the challenge."
Jonathon Swaine, Managing Director at Grosvenor Casinos, commented on the Grosvenor team's charity efforts: "We are extremely proud of all our team members who during this challenging time when the chips are down have continued to go above and beyond for their local communities. Their commitment and energy to help those in need is a great example to us all and I'd personally like to thank them all for their efforts."