By
William
- 23 March 2020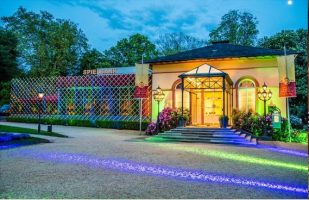 With a history spanning more than 175 years, Spielbank Bad Homburg is one of the oldest and most famous casinos in Europe. Should a historic casino look to the past or future for answers in the present?
We talk to Spielbank Bad Homburg's Managing Director, Lutz Schenkel, about the history of the casino, how it has impacted the local community, some of its plans going forwards and some of the emerging trends and challenges in the German casino marketplace in 2020.
Could you give us some background on yourself and how you got involved in the casino business?
I stepped into the industry by accident after several years of working as a bank-assistant and was easily "infected" by the spirit of a casino and its international clientele. Because of my clear interest in my job I got quickly promoted and educated by my employer (Westdeutsche Spielbanken) for leading positions.
My biggest interest was building up new casinos. I was involved as a dealer in the first casino in the former EastBerlin, GDR, in 1990. Our company got a license in Denmark, where we built up the casino in Aarhus. After five years I went back to Germany and built the Casino Schenefeld, at that time the latest casino in Germany. At the same time I was responsible for the integration of two old-fashioned casinos (Sylt and Travemuende) into our new casino-group of Schleswig-Holstein.
In 2012, I got the chance to lead Casino Bad Homburg into the future. It is one of the oldest casinos in Europe. I regarded this task as very challenging due the difficult times our industry had to face.
Could you tell us more about its history? How has the casino benefited the local community over the years and how has it evolved?
Casino Bad Homburg was found by the twins François and Louis Blanc in 1841. They decided to take the "00" off the roulette wheel, which increased the winning chances for their customers.
At the same time François Blanc was one of the first marketing experts and made advertisments in all large European papers. They built the spa and a huge park, plus an extraordinary "Kurhaus", where famous singers and orchestras appeared on stage. Within a few years, Homburg became THE meeting place for the higher classes, Royals, artists, military – it was a must to spend time at Homburg.
From 1873 onwards, gambling was forbidden in Prussia, so Casino Homburg was forced to close down. François Blanc and his German wife Marie were aware of this and had, in 1866, acquired the license of the then unsuccessful Casino Monte-Carlo
They used the same steps to lead MonteCarlo to the European Top of the Casinos. This part of the history led to Casino Bad Homburg calling itself "The Mother of Monte-Carlo."
Casino Bad Homburg was opened again in 1949 by a private owner, Mr. Heidtmann. He was followed in 1977 by Mr. Wicker, who owned the casino until 2012. In 2013, our company took over. The "François-Blanc-Spielbank Bad Homburg v.d. Hoehe" is by 100 per cent a daughter of the "Kur- und KongreßGmbH", which again is owned 100 per cent by the town of Bad Homburg v.d. Hoehe itself.
The casino has always been the key to success for the town, as before it was a small town without any special importance. When it reopened its doors, from the very first moment it was very successful again and belonged for a long period to the Top Ten in Germany.
Even during the economically difficult times faced by the industry, it succeeded in being quite stable. When our company took over in 2013, the casino was number nine in Germany, today (and for the last four years) we are number five, now very close to number four (regarding the Gaming Revenue).
How and under what terms is the casino licensed?
The license was offered by public and EU announcement in 2011, since Mr. Wicker didn not want to continue. There were several companies interested, but only two went forward, whereby we won the license after the decision of the Town of Bad Homburg. Of course, the decision was NOT made by the same politicians, which later controlled the company on the director's board. The casino licenses in Hessen (we have three different casinos) are always allowed for a maximum of 15 years.
Could you tell us more about the different types of gaming on offer as well as other amenities and facilities? What are some of the casinos stand out features and games? What about visitor numbers? Are they on the up?
We run our house as a very classical German casino to a very high standard. Since we named it "François-BlancSpielbank" after the founder we still offer the traditional French Roulette, beside American Roulette, Black Jack, Poker, Ultimate Poker and 165 slots. We expect our guests to wear nice evening clothes at the table games, though they are free in the slot area to wear casual attire, where we offer an electronic roulette area as well.
Our guests appreciate very much, that we not only present the newest slots, but take them "into the decision process", as to whether we should keep them. Even at the tables we are again and again presenting new ideas and talking with our guests about the ideas, which very often come from our own personnel.
We additionally have a very nice finedining restaurant, which is very popular in our region. Our nightclub is open on Friday and Saturday with various DJs. Our Tea-Dance on Sundays is extremely popular with people between 40 and 85 years old.
Our high engagement in communicating with our guests, the clearly traditional standard and the "living" areas due to their permanent changes, has lead to a great success. When we took over in 2013, our average guest number per day was 360. Today it is at 620.
Could you tell us more about the casino market in Germany in general? It was announced recently that Germany's casino revenue has returned back to the sales level of 12 years ago. Is this true? If so what is behind the increase?
Germany's gambling industry has had difficult times since 2001, where some casinos were shut down. Most of us did their homework and moved on to enter the 21st Century. Of course, we all suffer due to the still not regulated online-market. Especially during the last two years the German casinos have enjoyed huge success due to regulations in the arcademarket. Slots at the casinos became much more interesting for former arcade players. Some of the producers reacted and created their own casino versions of arcade-slots.
Today, German casinos make about 75-80 per cent of their gaming revenues with slots, the rest comes from table games, which do not fit anymore to the lifestyle of younger generations as a permanent interest. The average age is much higher in that area than at the slots.
How has the market changed over the last few years. What are some of the challenges that the sector is currently facing?
As said before people spend their spare time differently then 10-12 years ago. They are naturally connected with their smart-phones, their tablets or the internet. It is very normal to stay there to play or gamble, while our "oldfashioned" industry still discusses this fact. The German problem is the still unregulated online market, the casinos still have no opportunity to enter this sector because of the political system in Germany, where 16 lands (16 partlysovereign states) have to find a common solution – disregarding the ruling parties in the autonomous regions. Unfortunately, the new law, which is supposed to regulate the onlinemarket from July 1 2021 on, will not be successful either.
Until then and during the last years, German casinos try to move on through not only offering regular games, but new things as well – like events, parties, restaurants, nightlife and so on.
What lies ahead for the Bad Homburg casino?
Due to our take-over in 2013 we were able to rebuild the casino and start a new chapter in the long history of our house much earlier than our competitors. We did that with no hesitation, renovating our old casino in a very classical way, which our customers accepted gladly.
Your question "what lies ahead" is not easy to answer because we are a living casino, trying out new things, rebuilding our gaming areas all the time. The next step will be a new presentation of our automatic roulette in a very lively entertainment style.
During the last years, quite a number of our personnel, which belonged very often more then 30- 40 years as our staff, took their pension. Due to our convincing concept we succeeded in attracting young women and men not only from Germany but from several countries to join our team. Today we have around 230 people working at the Casino Bad Homburg, with family roots in 29 countries all over the world. We are glad to notice that our international customers appreciate this very much.
As for the management it is a great pleasure to rebuild our team, which is very motivated in developing our casino all the time, sometimes in larger steps, sometimes in small ones. We are very optimistic that the history of our casino will last very much longer than our now almost 179 years.